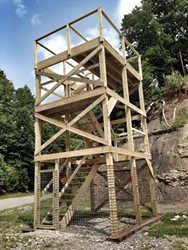 Horner, W.Va. (PRWEB) August 06, 2014
McFly Outdoors located in Horner and in Flatwoods, W.Va. is set to open a brand new archery tower in Horner, W.Va. The tower is 20 foot tall and created to give archery hunters an elevated practice shot to prepare them for hunting season. "If you are anything like me, I do not have the time or take the time rather to put up my treestand and practice shooting from an elevated position. The idea for the archery tower is to provide archers with the ability to practice taking a shot 20 feet in the air, hassle free," said owner Wes Garton. The tower has the ability to have up to four shooters at a time and shooters will have the opportunity to shoot at multiple targets spread from ten to 60 yards. "This tower really gives us the unique ability to get up in the tower with our customers and assist to assure them that their bow is completely accurate and ready for the opening day of archery season," said owner Wes Garton.
On Sunday August 10th McFly Outdoors is hosting a tower opening celebration starting at 4:00 p.m. "This time of year is always an exciting time of year for us as we gear up for our busy season. We decided to have a cookout for our staff, friends, family and customers to give them the opportunity to shoot the tower and celebrate what we consider the kick off to our busy season," said owner Wes Garton. Everyone is invited to stop by the opening celebrating and shoot the tower for free. Beginning Monday, August 11th, all customers can call 3044528227 to reserve their shoot time on the tower.
About McFly Outdoors: McFly Outdoors is a family owned business that values the outdoors as much as they do their customers. McFly Outdoors strives to be the premiere hunting and fishing headquarters in north central West Virginia. Located in both Horner and Flatwoods, W.Va.; the two full-service shops offer an extensive inventory of sporting goods supplies, and friendly, expert advice about products and insight about hunting and fishing in its area.