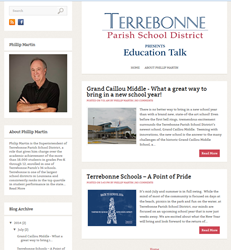 There is so much happening at Terrebonne's 36 schools...there is a lot to talk about.
Houma, LA (PRWEB) August 07, 2014
Terrebonne Schools Superintendent Philip Martin today announced the launch of a new online blog, "Education Talk" where news, updates, insights and plans for the school district will be posted. The new blog encourages the sharing of ideas and updates for one of Louisiana's largest school districts.
According to Mr. Martin, "There is so much happening with Terrebonne's 36 schools. From the opening of the new Grand Caillou Middle School to the construction of the new Tiger Field Sports complex at Southdown, to the great results we are seeing in the classrooms, there is a lot to talk about."
Readers can find updates from Mr. Martin on an at least weekly basis. The new blog can be found online at http://www.terrebonneschools.org and is part of other popular online communications managed by Terrebonne Parish School District that include popular Facebook and Twitter channels.
Complete information can be found at the blogsite or by calling Becky Breaux at 985-876-7400.