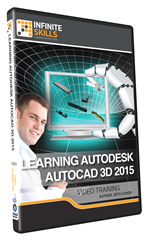 Learn Autodesk AutoCAD 3D 2015 at your own speed.
(PRWEB) August 06, 2014
Software training firm Infinite Skills Inc. this week introduced its "Learning AutoCAD Civl 3D 2014 Tutorial," an intermediate course designed to prepare student and professional designers for modeling and presenting 3D projects in AutoCAD.
AutoCAD 2015 is equipped with a powerful set of 3D design tools, allowing users to create different kinds of 3D models, including solid primitives, surface models, or composite models from multiple solids. AutoCAD's 3D features can also be used to produce walkthroughs, using lighting and other visualization tools to render and animate 3D designs.
Infinite Skills' Learning AutoCAD 3D 2015 Tutorial Video takes users from the basics of learning to navigate the 3D workspace and use 3D tools, through the tools and techniques for drawing and editing, and through to the final rendering and presentation stages.
Learning AutoCAD 3D 2015 Training - Streaming
Course author Seth Cohen is currently a vice president of training at CADManage, a world-wide consulting company for AutoCAD Civil 3D and other CAD programs. He is an AutoCAD 2014 Certified professional, and an AutoCAD Civil 3D implementation expert with a level five certification as a geospatial technical specialist. He has worked with major companies, government agencies, and individuals consulting, training, and implementing CAD software.
Following an introduction to working in the 3D environment in AutoCAD, Cohen covers the basic 3D model types, demonstrating how to create surface and wireframe models.
Students then learn to produce a 3D model from a 2D profile, and create a composite solid model in 3D.
Next, the course demonstrates how to add details to your model, introducing features such as filleting and chamfering, along with essential editing tools.
As the course continues, Cohen includes chapters covering viewing 3D models, plotting in 3D, creating walkthrough animations, and more.
"AutoCAD is a powerful design tool that can be used to create real-world 3D models," Cohen says.
"In this course we will cover the basic design aspects of 3D modeling in AutoCAD, equipping AutoCAD users with the knowledge and skills to produce their own 3D projects in AutoCAD."
Free demo videos and a full list of course contents can be found on the Learning AutoCAD 3D 2015 training page of the Infinite Skills website: http://www.infiniteskills.com/training/learning-autodesk-autocad-3d-2015.html.
Infinite Skills offers its Learning AutoCAD 3D 2015 Tutorial either as a DVD or direct download from the company website at a retail price of $99.95, or as part of its subscription streaming service available at a rate of $25 per month. Though the compatibility of programs varies, all Infinite Skills titles and formats work on both Mac and Windows operating systems, and shipping is available around the globe. Additionally, Infinite Skills tutorials are supported by project files which correspond to examples in the videos.
About Infinite Skills Inc.
A leader in the field of software training, Infinite Skills designs its courses on a task-oriented model, teaching complex skills by providing hands-on examples and guiding users as they carry out essential functions. Infinite Skills offers a wide range of software titles available as DVDs, digital downloads, and in iPad editions. Infinite Skills now offers a subscription service, providing access to all its training content for a monthly fee, keeping with company's aim of delivering professional training to customers anywhere they want to learn.