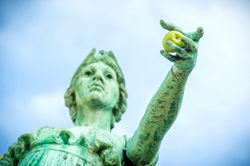 'We strive to offer our students a supportive learning environment that encompasses challenging academic programs, opportunities for hands-on research with outstanding faculty, and service-learning experiences that enhance their education.'
Greensboro, NC (PRWEB) August 05, 2014
For the 16th consecutive year, The University of North Carolina at Greensboro has made Princeton Review's list of the nation's best universities for undergraduate education.
The education services company features UNCG in the new 2015 edition of its annual college guide, "The Best 379 Colleges." Only about 15 percent of America's 2,500 four-year colleges and four colleges outside the U.S. are profiled in Princeton Review's flagship college guide.
"We are pleased that Princeton Review continues to recognize UNCG as a comprehensive, student-centered institution of excellence. We strive to offer our students a supportive learning environment that encompasses challenging academic programs, opportunities for hands-on research with outstanding faculty, and service-learning experiences that enhance their education while benefiting the community," said Chancellor Linda P. Brady.
Rankings are based on institutional data, visits to schools, feedback from students, and the opinions of Princeton Review's staff and its 27-member National College Counselor Advisory Board. Princeton Review does not rank the "Best Colleges" numerically.
UNCG students have earned nationally competitive scholarships and fellowships in recent years, including Gates Cambridge, Luce, Goldwater and Fulbright awards.
The university's undergraduates praise the "high quality of education at a significantly reduced rate, while having the smaller classes allowing closer bonds between faculty and students," according to Princeton Review's student surveys. Nontraditional students appreciate the "great support system for adult students."
UNCG also made Princeton Review's regional list of the 138 Best Colleges in the Southeastern U.S. Institutions make the regional lists based on academic excellence and independent student surveys.
***
The University of North Carolina at Greensboro is a challenging, supportive and engaged community where learning is carried forward to Do something bigger altogether. Founded in 1891, UNCG is the largest and most diverse university in the Triad, serving nearly 18,000 students. Standing apart from other universities, the UNCG community is joined together by a shared value: We define excellence not only by the people we attract, but by the meaningful contributions they make.