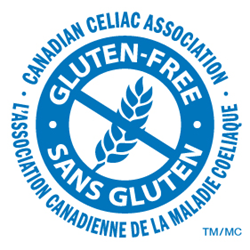 "Mint Pharmaceuticals is the gold standard for Canadian medications"
Toronto, Ontario (PRWEB) August 06, 2014
The Gluten-Free Certification Program (GFCP) in partnership with the Canadian Celiac Association is proud to announce that Mint Pharmaceuticals ("Mint") is the first pharmaceutical supplier in Canada to be certified by the GFCP. This initiative is designed to protect celiac and gluten-sensitive consumers from accidental gluten ingestion in medications.
Pharmacists can play an important role in this process by prescribing medications that are certified gluten-free. Research suggests that contamination and unintentional gluten ingestion in items like medications may affect up to 43% of adults suffering from celiac and gluten-sensitive ailments even when they have good dietary adherence.
Mint is currently supplying pharmacies across Canada with patient information about gluten-sensitivity. In addition to these awareness tools, Mint is also providing pharmacists with GFCP decals to apply to Mint's certified gluten-free medications. These initiatives allow patients to be confident their medication is certified gluten-free.
Although few prescription medications deliberately contain gluten, it is important that all the ingredients involved in the manufacturing process along with their sources are explored to determine if the particular drug is completely free of even trace amounts of gluten. Consumers should note that the generic form of a medication may use different excipients (pharmacological binding agents) than the brand name drug.
The GFCP and the Canadian Celiac Association are proud to partner with Mint Pharmaceuticals on this gold standard for Canadian medications.
About the Gluten-Free Certification Program
The Gluten-Free Certification Program (GFCP) was developed so consumers can shop with confidence by selecting those safe, reliable and gluten-free products displaying the GFCP trademark. Within the United States, the National Foundation for Celiac Awareness endorses the GFCP, as the Canadian Celiac Association does, within Canada.
The GFCP is a voluntary certification program designed to help brand owners differentiate their gluten-free products from the increasing clutter of gluten-free claims on retail packaging. The process is predicated on a robust third-party audit certification process at the manufacturing facility, which verifies their ability to regularly meet the stringent GFCP requirements when managing gluten as part of their food safety programs.
By embracing the GFCP http://www.glutenfreecert.com, both manufacturers and retailers throughout North America continue to raise the food safety standard for gluten-free product manufacturing.
About Mint Pharmaceuticals
Mint Pharmaceuticals is a Canadian owned and operated company focused on supplying high quality and affordable generic pharmaceuticals to the Canadian consumer. In keeping with their mission of consistent supply, innovation and exceptional customer service, Mint Pharmaceuticals is working to help pharmacists understand the risks of celiac disease and gluten sensitivity while offering their patients certified gluten-free medications. http://www.mintpharmaceuticals.com
About the Canadian Celiac Association (CCA)
The Canadian Celiac Association is the national voice for people who are adversely affected by gluten, and is dedicated to improving diagnosis and quality of life. Based in Mississauga, Ontario with 28 chapters across the country, its mission includes advocacy, education, research and community support. http://www.celiac.ca