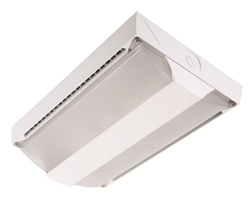 Gurnee, IL (PRWEB) August 05, 2014
Kenall's new Millenium OS™ LED luminaire provides greater energy savings, optimized optics and the industry's best warranties. The MOS is an LED lighting product with an integrated microwave occupancy sensor for user-defined dimming to 10 percent for greater energy savings.
Optimized for stairwell use, MOS is also flexible enough for other applications, including outdoor use due to its IP65 rating and Wet Location listing. The MOS can be specified with confidence because the industry's leading luminaire is backed by Kenall's exclusive Peace of Mind Guarantee® AND a 10-year limited warranty.
Millenium OS Luminaire (MOS Series) features:
•Step dimming to 90 percent for optimal energy savings
•High-frequency Doppler occupancy sensor; concealed to provide vandal resistance and protection from the elements
•100,000 hour LED lifetime
•2,267 lm and 4,832 lm configurations
•4000K CCT (80 CRI); 5,000 CT (75 CRI)
•ASHRAE 90.1 and Title 24 compliant
•Listed on DesignLights Consortium® (DLC) Qualified Products List (QPL)
•Peace of Mind Guarantee®
•10-year limited warranty
The MOS also includes integrated heat sinks to draw heat away from the driver and LED's for long life operation and optimal performance, an emergency option with integral battery back-up providing light output during emergency or power failure, and polycarbonate or acrylic textured clear lens for reduced glare.
Users can dial-in savings with high-frequency Doppler sensing and user-defined dimming. The sensor design features:
•5.8GHz high-frequency Doppler technology, reducing nuisance tripping
•Standard integral occupancy sensor for user-defined step dimming from 50 to 90 percent
•"Auto-on" during power interruption with optional battery backup
•Field adjustable time delay from 10 seconds to 30 minutes for maximum energy savings
•Adjustable sensitivity within detection area
For additional information, download the brochure from the literature section at http://www.kenall.com, call 1-800-4-KENALL or email info(at)kenall(dot)com.
*****
About Kenall Manufacturing
Since its inception in 1963, Kenall Lighting, located in Gurnee, IL has been known for superior quality, exceptional value, and durable solutions, and it is proud to provide sealed lighting for containment or clean spaces, security lighting for detention facilities, and specialized healthcare and transportation applications. Kenall products are designed and manufactured in the USA and meet the guidelines established under the Buy American Act and the North American Free Trade Agreement. For additional information, visit http://www.kenall.com.
#####