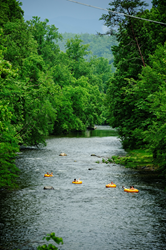 Tennessee is home to...some of the nation's best swimming holes...and the best Southern traditional cooking.
Nashville, Tenn. (PRWEB) August 05, 2014
Summer's end is right around the corner but that doesn't mean there isn't time for one more adventure. Tennessee is home to museums that house the mysteries of times passed, some of the nation's best swimming holes, historic train rides, and the best Southern traditional cooking. Check out these last-minute ideas and see how one family spent their vacation in East Tennessee: http://www.tnvacation.com/bleubird.
Discover
The history of East Tennessee is alive and well at the Birthplace of Country Music Museum in Bristol. From the historic Bristol Sessions to today, the story is shared in the 24,000-square-foot facility with 12,000 square feet of exhibit space. Music mixing stations, theater experiences, and interactive technology-infused media are also on display. The museum will host live performances and educational programming year-round.
Explore science, technology, art, and history at Discovery Park of America in Union City which offers a world-class experience with more than 70,000 square feet of exhibitions. Step outside and into a 1800s small community with a 150-year-old dog-trot log cabin, a kitchen garden, orchard, livestock pens and more. Other outside structures include The Mill Ridge, The Barn, a 100-year-old Chapel and The Depot.
Curiosity lies around every corner of The Children's Museum of Memphis. Memorable experiences are made at the museum that houses exhibitions where children can discover a flight simulator, control tower, package conveyor system and a real airplane cockpit are part of the "Going Places" exhibition. Explore the lighthouse and treehouse as well. Cool off at H2Oh! Splash Park that has more than 40 sprayers formed into flowers, a turtle, crab, snail and more. The garden-themed attraction provides more than 7,700 square feet of water fun.
Dine
Hungry? Loveless Café in Nashville is calling with their Southern food made entirely from scratch, especially their fluffy, melt-in-your-mouth biscuits which are served with every meal. Patrons can't go wrong starting the day off with the famous Loveless country ham and two eggs all slathered with red-eye gravy. Lunch and dinner include grilled catfish or meat & 3's with pit-smoked options served with sides like fried okra and stone-ground grits. Walk off the meal with a browse through the on-site retail shops that house homemade goods, gifts, clothing, accessories and much more.
Tennessee's oldest town and the Storytelling Capital of the World, Jonesborough, is home to not only the International Storytelling Center where daily tales are spun but it's also home to the Olde Towne Pancake House, a perfect dining option that captures the heart of a small town. Order a large stack of wild blueberry, butterscotch, or chocolate chip pancakes with lunch options that include homemade meatloaf, fresh hamburgers and Sunday home-style dinners like chicken and fresh catfish.
Miss Mary Bobo's Boarding House in Lynchburg opened in 1908 as a boarding house, serving Southern hospitality and traditional Southern cooking. While the house no longer has "boarders," it does serve one of the best noonday dinners in Tennessee. Experience the history of the building and learn about the boarding house traditions while savoring a delicious meal with family and new friends.
Recline and Unwind
Listed as one of the ten best swimming holes in the United States by Travel & Leisure and Condé Nast, Cummins Falls in Jackson and Putnam Counties has been a scenic spot for more than 100 years. The 211-acre site is home to a 75-foot-high waterfall, Tennessee's eighth largest waterfall. Relax among the rocks as they cascade refreshing water, providing a much-needed respite from the summer heat.
Hop on a train and take a ride along the Hiwassee Loop as it climbs the mountain in Farner courtesy of the Hiwassee River Rail Adventure. The train departs from Etowah and offers an excursion through untouched natural landscapes within the Cherokee National Forest. Marvel at the Great Hiwassee Loop as passengers travel over a 62-foot high bridge as the rails spiral. Sit back and relax, taking in one of the most scenic railroads in the Southeast.
Feel like having a lazy day on the river? Go to the Little River in Townsend for a full day of tubing fun with Smoky Mountain River Rat. There are two river trips to choose from, the upper section and the lower sections. Families will love the lower section as it has a rock jump, rope swing, calm rapids and, of course, the scenic beauty. The upper section is home to the adventure float with a scenic float and swimming holes, a perfect way to spend a summer day.
Start planning one last summer hurrah at http://www.tnvacation.com.
# # #
Explore more Back-to-School summer trip ideas at tnvacation.com and join other Tennessee travelers by following "TNVacation" on Facebook, Twitter, Pinterest, Instagram and YouTube.