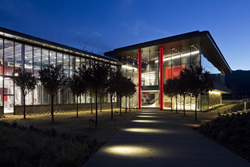 Hall Winery employs cutting-edge green strategies and technologies including solar panels, radiant flooring, reduced water consumption, and local and recycled building materials.
Denver, CO (PRWEB) August 05, 2014
In the early history of wine making, grapes were gathered into large, wooden tubs and crushed under vineyard workers feet in order to release the juice. These were then placed into oaken barrels to ferment and age. Back then, wine making was an often uncertain process. Today, wine making has evolved into a highly specialized art relying on modern manufacturing processes.
Today, like so many other things in our world, the age-old science and art of wine making has gone high-tech and Hall Wines in St Helena, CA is the perfect example of these changes. The latest web documentary video from ElectricTV highlights the contributions of NECA and the IBEW in the construction of Hall Wines expansive renovation which has become California's first and so far, only LEED Gold certified winery.
Less than an hour north of San Francisco, California's Napa Valley is considered one of the world's premier wine-producing regions. With a Mediterranean-style climate similar to that of other great wine making regions such as Tuscany and Provence, it is small wonder that Spanish, French and Italian immigrants over the years chose this scenic valley to re-establish their industry in the New World.
Today, you can't throw a rock without hitting a winery. Hall Winery, occupying a centuries-old plot of land with a reputation for producing of one of the region's best classic Bordeaux varietals (Cabernet Sauvignon, Merlot, and Sauvignon Blanc), has opened a new visitor center as the first – and only – winery in the Golden State to achieve the prestigious Leadership in Energy and Environmental Design (LEED) Gold Certification by the U.S. Green Building Council.
For those unfamiliar with LEED Certification, it is a set of standards that measures buildings and communities for energy efficiency and use of resources such as water, as well as how well these institutions minimize CO2 emissions and their impact on the environment. The Hall Winery employs cutting-edge green strategies and technologies including solar panels, radiant flooring that runs hot and cold water through the slabs in order to control building temperatures, reduced water consumption and the use of local and recycled building materials.
While Hall's fine Cabernet continues to age in traditional oak barrels as it has been done for centuries, the structures and the complex, high-tech machinery and systems necessary to produce a consistently good wine required specialized skills, which have been provided by NECA member Napa Electric and the electricians and technicians of IBEW Local 180.
"Napa Electric worked with us on both phases of this project," says Mike Reynolds, president of Hall Winery. "They've done a great job...it gets done in a timely way, and everything works."
Jason Briggs, an IBEW foreman, adds, "Napa Electric [and] the IBEW offer a competent way of building something...there's a lot more training involved for both."
To learn more about this remarkable, high-tech winery and how the NECA-IBEW team has been helping Hall Winery to bring this ancient craft into the 21st Century, visit electrictv.net.
About Electric TV: Electric TV is a project of the National Electric Contractors' Association and the International Brotherhood of Electrical Workers (NECA-IBEW). Produced by Oswego Creative out of Golden, Colorado, these short web documentaries help to raise public awareness of the work being carried out by members of these organizations on the latest green energy project.