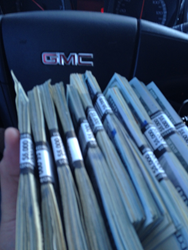 I'm investing into the green rush.
Bensalem, PA (PRWEB) August 05, 2014
Last night Marijuana Doctors Sales Director Michael Jelasso played his cards right and won $69,000. While attending a mid-size poker tournament being hosted at the Parx Casino in Bensalem, Pennsylvania Jelaso quickly proved himself to be a formidable opponent and powerful stack among the room of seasoned gamblers. Going into the second day of play, which concluded at 1 am on Monday morning, Jelaso was the chip leader and guaranteed a $3,000 dollar cash out for finishing in the top 12.
In true MarijuanaDoctors fashion Mr. Jelaso continued his dominance going into the final table with one of the largest chip stacks. Ultimately, Jelaso came in 2nd and claimed a prize of $69,000 dollars. The only person more in shock than Jelaso himself was his co-worker, Marketing Director Jonathan Schwartz who was given the opportunity to bank roll Mr. Jelaso's improbable run but sadly declined. "I couldn't believe it. He asked me if I wanted to split the entry fee in exchange for 30% of whatever he won…I just lost nearly 20 grand," Schwartz lamented jokingly. When asked what he plans to do with his winnings Jelaso was quoted as saying: "Do you even have to ask?! I'm investing into the green rush," he smirked, "but I am absolutely going to celebrate with my MarijuanaDoctors team this weekend, we're a family and to have this type of success isn't as good as having awesome people to enjoy it with."
In the future COO John Nicolazzo plans to have MarijuanaDoctors.com sponsor the young poker stud for events taking place at the famous Foxwoods Resort and Casino, the same casino Mr. Nicolazzo built his impressive IT background in. Jelaso will be wearing the companies cannabis inspired clothing line "420 Friendly" at upcoming events. "We couldn't think of a better way to help market our company, earn some extra money for our managing team and have a great time all at once," Nicolazzo explained.