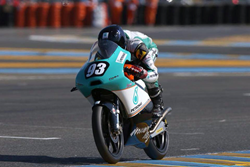 The most important thing for me is to learn the circuit and get the most out of this arrangement.
Plymouth,WI (PRWEB) August 05, 2014
Kyle Wyman Racing, sponsored by Millennium Technologies, has just announced the return of Ramdan Rosli to the team's Harley Davidson XR1200 series lineup. The 18-year-old Malaysian rider will make his AMA Pro Racing debut during the Indianapolis GP event this weekend aboard his #39 PETRONAS/KWR XR1200 machine.
Kyle Wyman commented on the inclusion, "I'm very excited to have another young rider from the PETRONAS program join our team this year for the Harley-Davidson races at Indianapolis," said Kyle Wyman, owner of KWR. "Last year we had Hafizh Syahrin, who won race two on a KWR XR1200. Ramdan is another wildly talented young man and I am honored to be providing him with a top-notch motorcycle."
The PETRONAS Talent Development Program is a motorsports enterprise that helps to uncover and develop young talent in two and four-wheeled international powersports competitions. Rosli also currently competes in the FIM CEV Repsol Moto3 Championship under the PETRONAS program.
"I am looking forward for the weekend," Rosli stated. "Riding a Harley-Davidson will be a totally new experience for me. The most important thing for me is to learn the circuit and get the most out of this arrangement. I hope to learn as much as possible from Kyle as well and accelerate my learning curve."
About PETRONAS: PETRONAS, the acronym for Petroliam Nasional Berhad, was incorporated on 17 August 1974 and is vested with the ownership and control of the petroleum resources in Malaysia. Fully owned by the Malaysian government, PETRONAS operates like a multinational petroleum corporation with sound business management practices and principles guided by a complementary set of mission, vision and values. Engaged in a wide spectrum of oil and gas operations domestically and internationally, its activities include exploration and production (E&P) to downstream oil refining; marketing and distribution of petroleum products; gas processing and liquefaction; gas transmission pipeline network operations; marketing of liquefied natural gas (LNG); petrochemical manufacturing and marketing; trading; shipping; and property investment. Over the years, PETRONAS has grown to become a fully-integrated oil and gas corporation with expanding business in Malaysia and overseas. Ranked among FORTUNE Global 500® largest corporations in the world, PETRONAS has presence in more than 30 countries worldwide in it's aspiration to be a leading oil and gas multinational of choice.
About Kyle Wyman Racing: KWR was established in 2011 by Kyle Wyman as a racing operations corporation focused on sustainable motorcycle racing ventures in the AMA Pro Road Racing Series. KWR currently operates the Millennium Technologies Yamaha Daytona Sportbike Team and Harley-Davidson Series team, as well as the KWR XR1200 Rental Program.