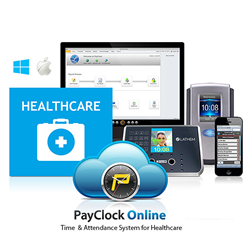 'When it was time to replace our time clock, we chose Lathem's PayClock Online,' said Angela Powell of Cornerstone Pediatrics.
Atlanta, GA (PRWEB) August 06, 2014
Medical practices across the country are choosing Lathem's PayClock Online to manage employee time and attendance for hourly employees, increasing efficiency and significantly reducing payroll processing time, Lathem announced today.
The Center for Physical Medicine and Pain Management in Montgomery, Ala.; Surgical Associates of Traverse City in northern Michigan; Cornerstone Pediatrics in Springboro, Ohio; and Florida Heart & Vascular Associates in Tampa are just a few customers that have cut payroll processing time by moving to automated and cloud-based employee time and attendance solutions.
When a flood damaged the existing older model Lathem clock at Cornerstone Pediatrics, practice manager Angela Powell looked to upgrade to Lathem's web-based time and attendance system so she could manage employee time and process payroll at any time and from anywhere.
"We were happy with Lathem," Powell said. "So when it was time to replace our time clock, we chose Lathem's PayClock Online because I could use it to complete payroll from my desk or out of the office." She continued, "I'm able to edit the missed punches and payroll requests in advance because I have the information at my computer. It makes it much more time efficient when it comes to payroll day, cutting payroll time in half."
PayClock Online benefits for medical practices include:

Practice managers experience a reduction in payroll processing time by up to two thirds, freeing them up for other job duties, including HR, insurance, compliance, physician credentialing, and accounts payable & receivable.
Practice managers can process payroll anytime, anywhere, whether on vacation or out of the office. Multiple offices within the same practice are integrated under one account, so there's no need to travel to the various offices to pick up time sheets. In addition, professionals on their feet all day between patient rooms and different departments can access time and attendance information from wherever they choose, at any point in the day.
Practice managers are able to edit missed punches and payroll requests in advance, instead of on payroll day. This saves the headaches of last-minute requests and eliminates the need to disrupt the flow of office operations the day of payroll.
Office staff and nursing personnel can use an employee time clock to clock in and out and review their worked hours anytime via the web. This real-time access empowers the medical team to take responsibility for their time entries and get erroneous entries corrected immediately, which allows them to better focus on patient care and the practice manager to tend to patient-related administrative tasks.
Rachelle Janush, D.O., Owner, Center for Physical Medicine and Pain Management, said she likes that PayClock Online provides immediate access for her to manage employee time and attendance information using just an Internet connection. PayClock Online allows the Center's managers to assign other users as administrators. Another benefit for Janush is that she has no additional software or network servers to maintain.
Surgical Associates of Traverse City upgraded its Lathem mechanical punch-card type time clock to Lathem's PayClock Online to increase productivity and streamline the payroll process.
Billing Supervisor Meagan Bottrell said, "PayClock Online has greatly improved our payroll process. Before, I used a pencil and calculator to add staff hours. As you can imagine, this was very time consuming. With PayClock Online, my payroll time has been greatly reduced."
"PayClock Online is designed to eliminate the tedious and error-prone task of manually tracking employee time for payroll," said Lance Whipple, Lathem Vice President, Sales and Marketing. "Most medical administrative offices are already overwhelmed with insurance, billing and compliance, so they need their payroll process to be as streamlined and effortless as possible. PayClock Online makes payroll easy."
About PayClock Online
PayClock Online is a cloud-based solution that enables businesses to manage time and attendance anytime, anywhere with an Internet connection. This web-based employee timekeeping system allows managers to quickly process payroll on their own time, when it is most convenient for them. Mobile functionality lets managers track remote employees' hours or administer payroll from their own mobile devices. It's easy to set up employees to clock in and out from their computers, mobile devices, or even Lathem time clocks, and enable them to view their own time records and paid time off information on the web without supervisor assistance. PayClock Online easily integrates with popular payroll software systems like QuickBooks, Paychex, ADP and more.
About Lathem
Headquartered in Atlanta, Georgia, Lathem is the leading provider of durable and affordable timekeeping products for business. Founded in 1919, Lathem remains a family-owned and operated US manufacturer. More than 1 million organizations worldwide use a Lathem solution every day to help manage their business, including Lathem's PayClock Online cloud-based time and attendance systems, wall clocks, and biometric and mechanical time clocks.
In celebration of their 95th anniversary, Lathem has launched a year-long sales event that makes it easier for small businesses to upgrade to the latest technology in employee time and attendance management to improve productivity and streamline the payroll process.