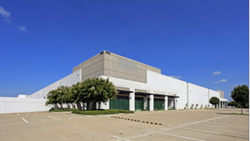 In the Houston market alone over the next 24 months we aim to acquire and develop roughly two million feet of class A industrial property in the area."
Sugarland, Texas (PRWEB) August 25, 2014
Placed in the desirable Houston sub-market of Sugarland, Texas, the Gillingham Distribution Center is a Class A, 330,674 square foot facility with current occupancy rates at 85%. Built in 2005 and expanded in 2007, the concrete tilt-up building boasts 38' and 28.5' clear ceiling heights, cross dock configuration, and ample trailer parking.
"This is a great building in an exceptional location, and we intend fix what we define as solvable problems by reconfiguring the asset to meet the demands of the market," said Sean Dalfen, Dalfen America Corp's Managing Principal and Chief Investment Officer.
Complimenting that investment, DAC also acquired 6 acres of land for the development of a freestanding 75,000 – 100,000 square foot industrial facility, with construction slated to commence in the coming months.
"We couldn't be more bullish about Texas, which is precisely why we currently have projects underway throughout the state." Mr. Dalfen added.
The Gillingham Distribution Center was acquired through Dalfen America Corp's Ashrei II Opportunistic Industrial Fund. As if in testament to Sean Dalfen's positive assessment of the facility and its Texas location, within only its first week of ownership DAC successfully executed a seven year lease for 52,500 square feet with Pink Zebra, one of the largest candle manufacturers in the U.S.
About Dalfen America Corp.
Dalfen America Corporation(DAC) is a leading private equity real estate investment manager and hands on real estate operator, that is focused on acquiring, developing and operating industrial real estate throughout the United States and Canada. DAC is one of the country's most active buyers of industrial property and currently owns and manages millions of square feet of premier commercial buildings in the U.S. and in Canada, through its Canadian arm, Dalfen's Limited.