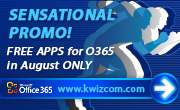 Toronto, ON (PRWEB) August 06, 2014
KWizCom, a leading developer of SharePoint Forms & Mobile Solution as well as multiple other cutting-edge web parts and add-ons designed to expand Microsoft SharePoint, just announced that they will be offering their most recent Apps for Office 365 at no cost in the month of August. All users of SharePoint Online are strongly encouraged to take advantage of this sensational promo that will be valid until August 31, 2014.
RecAPPtcha for SharePoint: safely publish online SharePoint forms & avoid spam
This new groundbreaking app for Office 365 enables users to add a CAPTCHA column to their SharePoint lists. This makes possible for the clients to safely publish these lists on their internet website and get input from anonymous users.
KPI Column: easily visualize goals, progress and status
This top-notch app for O365 helps users to easily envisage their targets and current status by displaying key performance indicator icons and progress bars in their SharePoint lists and libraries.
Conditional Formatting: easily apply conditional formatting without SharePoint designer
By utilizing this turn-key app, users can quickly and effortlessly highlight data in your list/library views by configuring conditional formatting logic rules. No technical skills or SharePoint designer is needed.
To take advantage of this sensational August promotion and get your complimentary apps for Office 365, please visit the Microsoft online store.
Follow KWizCom on Twitter https://www.twitter.com/KWizCom.
Become a fan of KWizCom on Facebook: https://www.facebook.com/KWizCom.
Join KWizCom on LinkedIn: http://www.linkedin.com/company/kwizcom.
Contact a KWizCom Account Specialist at +1-905-370-0333/+1-855-KWIZCOM or info(at)kwizcom(dot)com.
About KWizCom Corporation
Since 2005, KWizCom has provided innovative solutions and services to make SharePoint even better for over 5,000 companies worldwide. KWizCom's solutions and services expand Microsoft SharePoint out-of-the-box capabilities, streamline workflow, maximize efficiency and enhance over-all productivity for hundreds of thousands of users. KWizCom, a Gold Certified Microsoft Partner, is headquartered in Toronto, Canada. Please visit www(dot)KWizCom(dot)com to find out more about KWizCom's clients, people, partners and solutions.