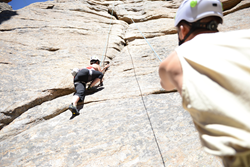 I didn't have people to keep in touch with when I got out…I wish this situation was available for me back then. It would have made a big difference in my life. - camp participant, Antonio Ruiz
Arlington, VA (PRWEB) August 05, 2014
At a three-day rock climbing camp in Estes Park, Colo., troops, veterans and community members were challenged to push themselves beyond their limits and conquer 50 plus feet mountain walls in Jurassic Park and Lumpy Ridge. The camp was hosted by the USO and Team Red, White and Blue, and led by legendary climber and Wheaties athlete Tommy Caldwell and his father Mike Caldwell, a climbing guide with over 30 years of experience. Held August 1 – 3, the camp encouraged participants to build confidence and leadership skills while maintaining a healthy and active life style.
"I didn't have people to keep in touch with when I got out…I wish this situation was available for me back then. It would have made a big difference in my life," said camp participant Antonio Ruiz, who found transitioning from military life to civilian life challenging after he returned from a deployment to Panama. "I'm glad to be able to give back to the individuals that are coming back and to guide them to understand that decisions can be made in positive ways with positive people."
This is the second year the USO and Team Red, White and Blue have partnered with Caldwell to lead the Colorado camp. As more of our troops return home and transition back to their communities the USO is there to provide them with the tools and resources necessary to live healthy and productive lives. By partnering with more than thirty best-in-class organizations, the USO is able to support troops and their families through every phase of their service – from deployment, through recovery as well as when they transition back to their communities.
As part of the three-day session Caldwell shared his personal struggle with overcoming a traumatic experience. In 2000, while on a climbing expedition in the mountains of Kyrgyzstan, a former Soviet republic, he and a group of fellow climbers were held hostage at gunpoint for six days before Caldwell seized an opportunity to overpower their kidnappers allowing for their escape. Once home, he struggled to cope with the events of his captivity and one day, while doing home repairs, accidentally sawed off his finger. Unable to reattach his finger, doctors prepped the die-hard climber for the possibility that he would never climb professionally again.
"I loved climbing but Kyrgyzstan mentally messed me up," said Caldwell, when speaking to the group of troops, veterans and community members on the second day of the camp. "And then I chopped off my finger…and at one point a doctor told me I should really think about what I wanted to do…I got mad because how could he not believe in me? And that inspired me even more. I left the hospital and immediately went to the gym to train."
Today, Caldwell is looking to conquer the world's hardest big free-wall climb, the Dawn Wall of El Capitan, in Yosemite Valley. Despite numerous attempts and years of trying, he is determined to make this dream a reality and encouraged the group to never give up, no matter how daunting the task at hand may seem.
In addition to learning the basics of outdoor climbing, the campers participated in a leadership seminar lead by Team Red, White and Blue Director of Operations J.J. Pinter, who challenged active duty troops, veterans and civilians to make a difference in the life of a service member who may be struggling with transition, their recovery or experiencing a difficult time. The USO and Team Red, White and Blue have been partnering since 2013 to deliver an environment for troops, civilians and veterans to come together, share their stories and to build a foundation for healthy, active living.
This year alone the USO will host hundreds of events to support active duty troops and their families, wounded, ill or injured troops and their caregivers, troops in transition and families of the fallen. To find out more about the USO and how you can help, visit us online at http://www.uso.org to learn more about Team Red, White and Blue visit http://www.teamrwb.org. Click here to view photos from the camp.
# # #
About the USO
The USO lifts the spirits of America's troops and their families millions of times each year at hundreds of places worldwide. We provide a touch of home through centers at airports and military bases in the U.S. and abroad, top quality entertainment and innovative programs and services. We also provide critical support to those who need us most, including forward-deployed troops, military families, wounded warriors, troops in transition and families of the fallen. The USO is a private, non-profit organization, not a government agency. Our programs and services are made possible by the American people, support of our corporate partners and the dedication of our volunteers and staff.
In addition to individual donors and corporate sponsors, the USO is supported by President's Circle Partners: American Airlines, AT&T, BNSF Railway, Clark Construction Group, LLC, The Coca-Cola Company, Grand Canyon University, JCPenney, Jeep, Johnson & Johnson, Kroger, Northrop Grumman Corporation and TriWest Healthcare Alliance and Worldwide Strategic Partners: BAE Systems, BIC, The Boeing Company, ConAgra Foods, FedEx, Lockheed Martin, Microsoft Corporation, Procter & Gamble, TKS Telepost Kabel-Service Kaiserslautern GmbH & Co. KG and Wawa Inc. We are also supported through the United Way and Combined Federal Campaign (CFC-11381). To join us in this important mission, and to learn more about the USO, please visit uso.org.
About Team RWB
Founded in 2010, Team Red, White and Blue chapters and communities deliver consistent, local opportunities for veterans and the community to connect through physical and social activity. They host weekly fitness activities, monthly social events, and participate in local races and events together. These programs are at the core of Team RWB's mission. Additionally, Team RWB is leading six Veteran Athletic Camps in various sports throughout the year. The organization is also organizing The Old Glory Coast to Coast Relay this fall, where 500 team members will run a single American flag from San Francisco to Walter Reed Veterans' Medical Hospital in Maryland. For more information visit TeamRWB.org