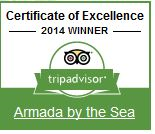 We really see this award as a testament to our consistency
Wildwood Crest, NJ (PRWEB) January 22, 2015
Armada by the Sea Motel is a 2014 recipient of Trip Advisor's Certificate of Excellence award. The accolade comes as no surprise and is in fact the fourth of its kind in as many years for the Wildwoods, NJ oceanfront resort. Each year Trip Advisor rewards those accommodations, vacation rentals, attractions and restaurants that consistently exceed the expectations of its travelers and Armada by the Sea is pleased to accept this honor for four straight years and counting. The unique beachfront family getaway has also earned a spot on Trip Advisor's top 10 hotels list in the Wildwood area.
"We really see this award as a testament to our consistency," said Owner Steve Tecco, "four straight years shows not only that we've been able to offer excellence to our visitors, but we've been able to sustain that level of excellence." "We are humbled by the award and we certainly do not take it lightly, no matter how many certificates we're able to accrue," he added.
The 2014 repeat performance from Armada by the Sea comes in part by way of its constant remodeling and refurnishing efforts, and more generally its commitment to cleanliness and comfort. Over the past two years each and every unit in the building has been refurnished, an added bonus on top of the already expansive list of room amenities. Although many travelers are partial to the flat screen TV's customary to each room or Armada's own Olympic size heated pool, perhaps the most striking feature is that every room has a view of the beautiful ocean, something you can't take for granted on your vacation!
Whether you're looking for a relaxing escape from the hustle and bustle or you're more geared toward an entertaining and action packed sabbatical, Armada by the Sea Hotel is the perfect vacation stop. Armada is conveniently located near Wildwood's boardwalk and amusement park hub, the Wildwood Convention Center, numerous public golf and tennis venues, and other exciting attractions. Inviting families, groups or individuals into their very own paradise, Armada by the Sea continues to make vacationing "memorable, affordable and fun!"