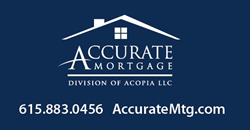 It makes so much sense to get a small group together and encourage discussion about the home buying process"
Nashville, TN (PRWEB) August 15, 2014
Accurate Mortgage regularly hosts free New Home Buyer Seminars, open to any interested parties in the Middle Tennessee area. Join Accurate Mortgage's team of loan professionals and hear all about how Accurate Mortgage can help you get into your first home in just 21 days.
Accurate Mortgage knows how daunting buying your first home can be. They created this seminar to help educate consumers about the process of buying a new home, and to help alleviate any concerns about getting started today. Topics covered will include tips on buying your first home, knowing your purchasing power, the loan qualification process, how to make an offer and much more!
"We held a few of these seminars last year and realized quickly how many questions new home buyers have," says Mike Hoover, President of Accurate Mortgage. "It just made sense to get a small group together and encourage interaction and discussion about the process. Every situation is unique, but they also share similarities."
While at the seminar, be sure to register for one of the four fabulous door prizes that will be given away. A lucky attendee will be able to choose a brand new flat screen television, a new gas grill, 4 tickets to a Titans game, or 2 airlines tickets to a destination of their choice ($400 value on airlines tickets). No purchase necessary but you must be present to win.
Check accuratemtg.com for a complete listing of scheduled seminars, and register online. Accurate Mortgage knows home ownership is a source of great pride for people and is happy to help Middle Tennessee families get into the homes of their dreams.
Locally owned and operated, Accurate Mortgage has served the Nashville area's mortgage needs for nearly 10 years. Mike, Joe and their team of experts provide top notch mortgage services with a real focus on quality customer service.
For more information visit http://www.accuratemtg.com.