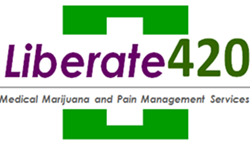 Liberate420 is devoted to improving quality-of-life for patients suffering from pain.
Norton Shores, MI (PRWEB) August 06, 2014
A leading medical marijuana expert and Dr. Marla Gendelman are opening pain management clinics throughout West Michigan, including its flagship office in Norton Shores, and will focus on non-narcotic therapies that assist people with debilitating medical conditions and chronic illness, the company announced today.
"Liberate420 is devoted to improving quality-of-life for patients suffering from pain," said Daniel J. Reid, Liberate420's founder and chief executive. "All too often, pain management consists solely of prescribed narcotics, which often are not effective. Liberate420 was established to provide patients with alternative, more effective options, including medical marijuana therapy."
Reid co-founded the first medical marijuana business in Illinois under that state's new Compassionate Use of Medical Cannabis Pilot Program Act, which passed in 2013 and went into effect earlier this year. He also formerly headed a national medical marijuana patient advocacy group and earlier held top management positions with global firms in marketing and public affairs.
Dr. Marla Gendelman, a native of Michigan, is returning to her home state from Pittsburgh as Medical Director of Liberate420. She is a board certified anesthesiologist and a graduate of the University of Michigan School of Medicine. Over the past 25 years, Dr. Gendelman has been associated with the University of Pittsburgh Medical Center and also has held teaching positions there and at Drexel University.
Expansion Planned Throughout Michigan, Other States
Reid says Liberate 420 is nearing completion of a lease in Traverse City and has plans for additional facilities throughout West Michigan. "Part of our commitment to serving people in West Michigan is ease-of-access. People with serious illness, chronic pain and debilitating medical conditions don't need the additional burden of having to travel long distances to see a doctor," he says. "We are working to open in Grand Rapids, Lansing, Kalamazoo and other markets in the coming months."
Liberate420 is also in negotiations to open offices in both Florida and Illinois. "We anticipate that Florida voters will approve Proposition 2 in the November election, which will make medical marijuana available in that state," Reid says. "In Illinois, the medical marijuana law is in its infancy, and we plan to assist patients there in treating debilitating medical conditions as defined in the new Illinois law."
About Liberate420
Liberate420 is a medical marijuana and pain management clinic that works with patients suffering from debilitating medical conditions and provides physician services to assist patients in improving quality of life. The company is based in Norton Shores (Muskegon) and is led by Daniel J. Reid and Dr. Marla Gendelman. Additional information about LIberate420 can be found at Liberate420.com.