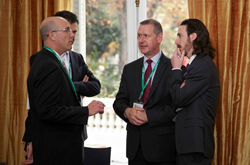 'It didn't sit well with us that a parent would be unable to access what is potentially a life saving service for financial reasons- that's why we have made this accessible to all parents for their children'
(PRWEB UK) 7 August 2014
BioEden the specialist tooth stem cell bank stands by its pledge to make personalised stem cell therapy an affordable reality by launching Access Membership at just £5 per month.
With stem cell therapy holding the promise of longer and better lives in the future, the cost and the ease of finding a stem cell match has been an issue, given that the cost of private stem cell banking requires an initial cash outlay of up to £4000.
Not any more.
BioEden the leading specialist tooth stem cell bank, has added 'Access' Membership to parents finding themselves financially unable to bank their child's cells for future use. "It doesn't sit well with us that a parent could be unable to access what could be a life saving service for their child, for financial reasons," said Group CEO Mr Tony Veverka.
Parents can access the stem cell banking service for just £5 per month, and can become a member of the plan as soon as the baby is born. To date the option for stem cell banking at birth has been umbilical cord blood banking, an invasive process which provides haemopoetic stem cell banking at a cost.
Now parents have the option to choose tooth stem cell banking or to add this to cord blood banking at a very low monthly cost.
Tooth stem cells have considerable advantages over cord blood cells;

The process is non invasive as the teeth fall out naturally
The stem cells can proliferate outside the body, so they are not limited to the amount available at birth
Tooth stem cells can differentiate into other cell types, therefore having a much wider therapeutic application
And now, thanks to BioEden, cost doesn't have to be a barrier.
So how can £5 a month give access to such a specialist service?
What's the catch?
BioEden assure their Members that there is no catch.
To activate full membership at the time when the stem cells need to be taken from the tooth costs £295. BioEden Access credits all monthly £5 subscriptions to the activation fee and even adds on a 10% bonus, meaning that for many Access Members there will be no activation fee to pay.
Following activation, a low monthly subscription becomes payable of just £12.95, or a single cash sum option is available if preferred. Additionally, all Membership subscriptions are fixed and won't increase over time.
BioEden's Mission Statement has long been "to help make personalised stem cell therapy an affordable reality."