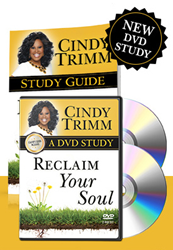 "The key to resiliency is learning how to reclaim your soul each and every day!"
Shippensburg, PA (PRWEB) August 05, 2014
Everyone wants to succeed, yet so few people become successful. Certain patterns in relationships prevent them from stepping into their destinies, and habits and behaviors in their lives keep them from fulfilling their purpose. An empowered soul is the key to unlocking our potential and achieving success.
"Successful people are resilient people," said Trimm. "The key to resiliency is learning how to reclaim your soul each and every day!"
Following her bestselling book, "The 40 Day Soul Fast," which focused on the 40 characteristics of an authentic person, "Reclaim Your Soul" focuses on the 40 behaviors of a resilient person. A DVD Study and Study Guide companion, released in August 2014, are now available to help develop the skills necessary to become more resilient and succeed in life.
By going through the "Reclaim Your Soul" video sessions—either individually or with a group—you will discover how to:

Recognize destructive relationships in your life and break free from their harmful impact
Identify and sever unhealthy soul ties and shield yourself from emotional entanglements
Unlock your potential and refuse to settle for anything or anyone that pulls you away from fulfilling your purpose
Interviews, review copies and giveaway copies are available upon request.
Dr. Cindy Trimm has dedicated her life to serving God and humanity. A bestselling author, high-impact teacher and former senator, Dr. Trimm is a sought-after empowerment specialist, revolutionary thinker and transformational leader. She has earned a distinguished reputation as a catalyst for change and voice of hope to the nations.
Destiny Image, located in Shippensburg, Pa, was founded in 1983 by Pastor Don Nori, Sr. It seeks to accurately represent authors who have a call to share God's present word to His people and to make these authors easily accessible to the Christian body around the world in every form of media possible.
FOR PRESS INQUIRIES, INTERVIEWS AND REVIEW COPIES:
Brad Herman
(719) 439-4960
bherman(at)norimediagroup(dot)com