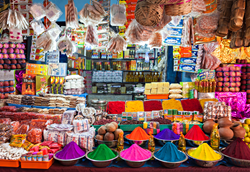 Although India has been a difficult market for some U.S. products to penetrate, it offers enormous potential. ~ Christian J. Foster, Deputy Administrator, FAS Office of Trade Programs
Wareham, Mass. (PRWEB) August 06, 2014
The Cranberry Marketing Committee (CMC) USA announced it has received a $48,500 Emerging Markets Program (EMP) grant from USDA's Foreign Agricultural Service to initiate a technical education program in India. The funding was requested as part of the CMC's 2014 Unified Export Strategy and is in line with the Committee's goals to leverage its existing budget in support of a strategic marketing initiative in key regions through August 2015.
"Our track record shows that every time we leverage additional funding in support of international marketing and export activities, there is a measurable return on investment in the form of increased export activity," said Scott J. Soares, Executive Director, CMC. "This USDA grant enhances our ability to grow demand in new markets and supports our long-term goals and objectives."
In 2013, the Cranberry Marketing Committee commissioned Spire Research & Consulting to conduct exploratory research to better understand opportunities and challenges for U.S. grown cranberries and cranberry products. Information was collected through trade interviews with parties such as importers, food manufacturers, and nutraceutical players; retail store checks in Delhi, Mumbai, Bangalore, and Kolkata; and personal consumer interviews.
Currently, the market for cranberry products is concentrated in major tier-one cities such as New Delhi, Mumbai, Bangalore and Kolkata. This is due to the presence of gourmet food stores in these cities and greater concentration of consumers with higher disposable incomes who are willing to purchase novel food products such as cranberries. With India showing a projected GDP growth of 6% annually over the next five years, Spire's research revealed a current $9.5 million dollar cranberry market that is expected to grow 5% per year between 2013 and 2017.
"We are pleased to see that the Cranberry Marketing Committee is taking advantage of our Emerging Markets Program to explore opportunities in India," said Christian J. Foster, Deputy Administrator of FAS's Office of Trade Programs. "Although India has been a difficult market for some U.S. products to penetrate, it offers enormous potential."
Some key research findings also revealed that while cranberry juice is widely available in major supermarkets/hypermarkets with a number of different brands available, other products such as dried cranberries, are limited and can be found only in specialty stores. A consumer survey reflects this distribution pattern, finding that a large majority (70%) was aware of cranberry juice, but only 13% were aware of dried cranberries.
Through a series of planned technical seminars targeted towards Indian industrial ingredient users such as food/beverage processors, large-scale baking chains, and nutraceutical manufacturers, the EMP grant will be used to:

increase awareness and availability of cranberry products
increase industrial usage of cranberries
increase usage of cranberries on-site
The in-country seminars will educate attendees on cranberry product forms and versatility, as well as the technical details of cranberry utilization. The objectives of the seminars are to raise cranberry awareness and knowledge among Indian industrial ingredient buyers and product developers, giving attendees the confidence to innovate and launch new cranberry products. CMC has not previously targeted India with in-market promotion or educational activities; core markets in China, Russia, South Korea and Pan European countries have been a larger focus to date. Although the focus of CMC efforts will remain on important emerging markets, the EMP grant will allow the launch of programs in other newer, emerging cranberry markets abroad without any impact on programs in existing markets.
About the Cranberry Marketing Committee (CMC)
The CMC was established as a Federal Marketing Order in 1962 to ensure a stable, orderly supply of good quality product. Authority for its actions are provided under Chapter IX, Title 7, Code of Federal Regulations, referred to as the Federal Cranberry Marketing Order, which is part of the Agricultural Marketing Agreement Act of 1937, as amended. This Act specifies cranberries as a commodity that may be covered, regulations that may be issued, guidelines for administering the programs, and privileges and limitations granted by Congress. For more information about the CMC, visit uscranberries.com or follow @uscranberries and Cranberry Cravers on Facebook.