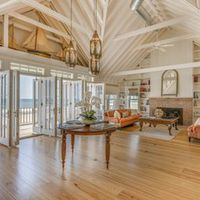 Pompano Beach, FL (PRWEB) August 06, 2014
"Billy Joel's Beach Home"
Billy Joel's Hamptons beach home just sold and is featured this week on the Top 10 homes spotlight at TopTenRealEstateDeals.com.
The summer of 2014 has proven to be a great one for The Piano Man. Not only has he had phenomenal success with his U.S. tour of shows in major ballparks around the country and residency at Madison Square Garden where he plays once a month for the entire year, but though it's taken "The Longest Time," he has something else special to celebrate . . . the sale of his Hamptons beach home.
Attendance for Joel's tours this summer has literally knocked all other star tours out of the ball field with his show in Washington D.C.'s Nationals Park, his third sold out crowd of 38,487 on July 26th, with a gross in ticket sales of $4.2 million. Since the 1973 release of "The Piano Man" until the last pop/rock song he wrote in 1993, "River of Dreams," the number of fans who pack his concerts proves Joel's continuing larger-than-life presence as singer-songwriter and composer. Going strong at age 65, in addition to having 33 Top 40 hits over three decades, all of which he wrote himself, 23 Grammy Awards and four different Hall of Fame awards, Billy also achieved the highest honor for influencing American culture through the arts, the Kennedy Center Honors, in 2013.
With so much success to celebrate, one of a new sort is now on the books under contract. It's the long awaited sale of Joel's Sagaponack Hamptons beach home that has been on and off the market for approximately five years. Purchased from the late actor Roy Scheider, of "Jaws" fame in 2007, it was where Scheider raised his family after building it in 1993. When Joel bought the home, he was married to super chef and cookbook author, Kathy Lee, who created a kitchen with not one, but two Wolf ranges and every conceivable accoutrement that pervades the dreams of any serious cook. Thoughtful design placed sleeping quarters on the ground floor with cooking, dining and spacious living areas above in order to capture the amazing ocean views during waking hours. At over an acre of land and 145 feet of wide sandy beach, the 5,500-square-foot home has four bedrooms, seven baths, four fireplaces and 180-degree ocean views through its glass walls. The property also includes a two-car garage with a one bedroom guest suite above that has a living room and half-bath.
Billy's beach home sold for just under the listing price of $19.95 million. Nancy Misrahi of Saunders Realty in Southampton, New York was the listing agent.
Visit TopTenRealEstateDeals.com for more celebrity, historic, famous and spectacular homes.