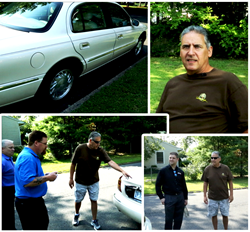 'Military service teaches you things that you carry with you the rest of your life, like discipline, integrity, loyalty, respect and honor.' -- David Suszko
Trevose, PA (PRWEB) August 05, 2014
David Suszko of Warminster, PA, a disabled 22-year U.S. Air Force veteran, has been selected as the latest winner of CollisionMax's Metal of Honor Award. As a result, CollisionMax of Warminster, PA, will repair his 1998 Lincoln Continental free of charge.
Suszko, 54, retired from the Air Force in 2000 with the rank of senior master sergeant after guarding nuclear weapon facilities and then serving as a recruiter at bases across the United States.
"Military service was one of the greatest things I've ever done," Suszko said. "Military service teaches you things that you carry with you the rest of your life, like discipline, integrity, loyalty, respect and honor."
Suszko signed up for delayed enlistment in 1978 while a senior in high school. He was inspired to enlist by his father, a World War II Army veteran, and his two older brothers, one of whom was drafted into the Air Force during the Vietnam War, and one who enlisted in the Navy in 1973. "I knew that I wanted a career in the military," he said, noting that since then his family has been "all-military."
Suszko met his wife, Patricia, while both were stationed at Whiteman Air Force Base in Missouri, now the home of the nation's stealth B-2 bomber force. His son, David, is an Air Force major, and a son-in-law is serving as a gunnery sergeant with the Marines in Afghanistan.
After his discharge, Suszko worked in corporate human resources for eight years, until back and joint injuries he suffered on classified operations he can't talk about caught up with him. "I'm in constant pain, and go for physical therapy three days a week," he said. He said he also remains "haunted" by several classified missions. "There are nights I can't get to sleep," kept awake by memories of those missions. "You don't have to be in combat to suffer traumatic stress in the military," he noted.
Suszko says the Lincoln, the main family car, has accumulated damage on all sides that comes from being driven more than 122,000 miles. "None of it is from an accident, so it isn't covered by insurance," he said. Living on a military pension and working occasionally as a part-time driver for a local trucking company, he says he doesn't earn enough to justify paying for the repairs himself. "I was kind of shocked when I got the call from CollisionMax. This award is just great for us, and we're very grateful," Suszko said.
Through its Metal of Honor Project, now in its second year, CollisionMax gives away auto body repairs to US military veterans, one per month for each of its locations in the Delaware Valley. The company selects the winners from nominations it receives from the public on the project's web site, http://www.metalofhonorproject.com.
"The Metal of Honor Project is our way of saying thank you and honoring the men and women of our armed forces who put their lives on the line for all of us," said Jim Tornetta, CollisionMax president and CEO.
In New Jersey, CollisionMax operates shops in Blackwood, Cinnaminson, Glassboro, Marlton, Pennsauken, Sicklerville and Westmont. In Pennsylvania, it has repair centers in Oxford Valley, Warminster and two in Northeast Philadelphia (both on West Grant Avenue). For information about CollisionMax, please visit http://www.collisionmax.com.