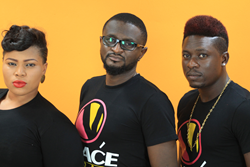 Vivace Records is the next big thing in Africa.
Lagos, Nigeria (PRWEB) August 07, 2014
Both Immaculate and Oyinkanade passionately express their talent in this love song which has been tagged as the best African cover of 2014.
Tee-Y Mix, the super Nigerian music producer who recently signed Oyinkanade & Immaculate to his new label "Vivace Records" reproduced the sounds and vocals, as nothing was lifted from the original song.
Most people who listened to the rendition said, "They like the rendition more than the original record."
To watch and listen to Stay With Me Cover by Oyinkanade & Immaculate, please click here: https://www.youtube.com/watch?v=p_LUv9NdQX8.
To download, please click here: http://www.hulkshare.com/vivacerecords/stay-with-me-cover.
To Follow:
Twitter: @Immaculatesings and @Iamoyinkanade
Facebook: /Immaculateofficial and /Oyinakanadeofficial