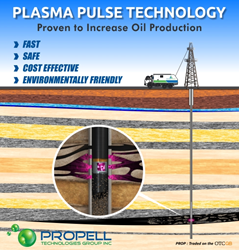 We are looking forward to working with Miller Energy with the new U.S. made tools. We believe that this certainly opens up the market for us and we anticipate ordering several additional tools shortly thereafter
Houston, TX (PRWEB) August 06, 2014
Propell Technologies (OTCQB:PROP), the exclusive U.S. licensee of a plasma pulse well treatment for enhanced oil recovery (EOR) today confirmed it will be treating the first two wells with its new plasma pulse tools made in the United States for Miller Energy Resources Inc. (NYSE: MILL).
The wells owned and operated by Miller Energy are in the prolific Appalachian Basin in Tennessee. Miller has some 200 producing oil wells and 184 gas wells in the Basin. The wells to be treated are the Hannah Heirs #4 that was drilled in 1980 in Morgan, County Tennessee to a depth of 1400 feet and the Henry Bowling #1 located in Scott County at a depth of 1800 feet. Both wells are 4 ½ inch cased holes with open hole completions.
The treatments are scheduled to be completed on August 8th and 9th. Propell's next generation tools are 3.5 inches in diameter allowing the Company to treat 4 ½ inch cased wells for the first time and operate on a single wire line configuration. This provides Propell with the ability to work with the bulk of the US wire line truck fleet and allows for immediate deployment of the tool due to the vastly greater availability of compatible wells and wire line trucks.
"We are looking forward to working with Miller Energy with the new U.S. made tools. We believe that this certainly opens up the market for us and we anticipate ordering several additional tools shortly thereafter," stated CEO John Huemoeller II.
For further updates and information on Propell Technologies please visit its corporate blog at blog.propell.com.
ABOUT PROPELL TECHNOLOGIES GROUP
Propell Technologies Group, Inc. (http://www.propell.com/), through its wholly owned subsidiary Novas Energy USA, is the exclusive U.S. licensee of the Plasma Pulse enhanced oil recovery (EOR) well treatment technology that improves production cost effectively without acidization, hydrofracking or other chemicals. It develops and commercializes treatment and stimulation of oil wells to meaningfully improve production and enhance the recovery of oil and gas in existing wells. For further information please visit http://www.propell.com.
ABOUT MILLER ENERGY RESOURCES
Miller Energy Resources, Inc. is an oil and natural gas exploration, production and drilling company operating in multiple exploration and production basins in North America. Miller's current focus is in Cook Inlet, Alaska and in the heart of Tennessee's prolific and hydrocarbon-rich Appalachian Basin including the Mississippian Lime and the Chattanooga Shale. Miller is headquartered in Knoxville, Tennessee with offices in Anchorage, Alaska and Huntsville, Tennessee. The company's common stock is listed on the NYSE under the symbol MILL.
SAFE HARBOR
This press release includes forward-looking statements of our current expectations and projections about future events. In some cases forward-looking statements can be identified by terminology such as "may," "should," "potential," "continue," "expects," "anticipates," "intends," "plans," "believes," and similar expressions. These statements are based upon current beliefs, expectations and assumptions and are subject to a number of risks and uncertainties, many of which are difficult to predict and include statements regarding the scheduled completion date of the treatments, the attraction of the wire line truck fleet, the increased market presence and the acquisition of additional tools. The forward-looking statements are subject to risks and uncertainties that could cause actual results to differ materially from those set forth or implied by any forward-looking statements. Important factors that could cause actual results to differ materially from those reflected in our forward-looking statements include, among others, our ability to timely perform, our ability to acquire additional tools and attract the wore lines and the factors described in our on Form 10-K for the year ended December 31, 2013, and any other filings we may make with the SEC. The information in this press release is provided only as of the date written, and we undertake no obligation to update any forward-looking statements contained in this press release on account of new information, future events, or otherwise, except as required by law.
Contact:
Patrick Gaynes
patrick.gaynes(at)propell(dot)com
(713) 766-5546