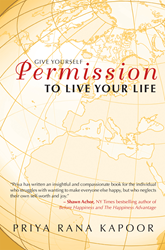 'Priya has written an insightful and compassionate book for the individual who struggles with wanting to make everyone else happy, but who neglects their own self-worth and joy.'
London (PRWEB) August 06, 2014
Unfortunately, sometimes the only thing holding people back from achieving their dreams and living their lives is themselves.
A 2013 Gallup poll showed that 63 percent of individuals are not engaged with their jobs, and 24 percent pretty much hate what they are doing.
In "Give YourSelf Permission to Live Your Life," author, speaker and life coach Priya Rana Kapoor outlines her successfully proven method that helps bridge the gap between disinterest and complete engagement. The outcomes of her process, "The Permission JourneyTM," lead to a happier environment and increased productivity both at home and at work.
Offering insight as well as personal and client stories to vividly illustrate the journey, Kapoor will guide readers as they learn to respect themselves, take control of what they can and delve into the topic of living their best and happiest life. Kapoor believes that giving oneself permission is a mindset shift that can be easily achieved, given appropriate and encouraging prompting.
Through reading "Give YourSelf Permission to Live Your Life," readers will learn to recognize their values, how to manage their fears, how to have healthy relationships, and most importantly, how to dream big and live their life.
Kapoor offers up a primer full of valuable information that readers can keep coming back to time and time again, learning something new upon each reading.
"Priya has written an insightful and compassionate book for the individual who struggles with wanting to make everyone else happy, but who neglects their own self-worth and joy," Shawn Achor, NY Times bestselling author said.
For more information, visit GYSPermission.com or PriyaRanaKapoor.com.
"Give YourSelf Permission to Live Your Life"
By: Priya Rana Kapoor
ISBN: 978-1-4525-9368-5
Available in softcover (US: $17.99; UK: £11.99), hardcover (US: $35.99; UK: £23.99)
Available on Amazon, Barnes & Noble and Balboa Press; Foyles UK and selected bookshops
About the author
Priya Rana Kapoor is a life coach, speaker and founder of the Give Yourself Permission empowerment program. Kapoor holds a master's degree in marriage and family therapy and a certificate in coaching. She lives in London, England and Los Angeles, California.
# # #
For review copies or interview requests, contact:
Daniel Pearson
317.602.7137
dpearson(at)bohlsengroup(dot)com