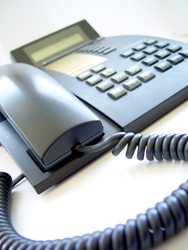 Cox Communications in Gainesville, Ga., wants business owners to know that their phones can do much more than keep callers on the line.
(PRWEB) August 06, 2014
Cox Communications and Electronics in Gainesville, Ga., has just released an informative report titled "5 Cutting-Edge Phone Features That Will Increase Productivity." This report details futuristic phone features that many business owners may not know about, and it gives the benefits of each of these hidden features. Access the full report here.
5 Phone Features That Increase Productivity
New business phone systems can do much more than just keep callers on the line. In addition to providing crystal-clear voice quality and dependable connections, a high-tech phone system can also:

Create one centralized communications hub to link all remote locations – meaning seamless transfers and fewer dropped calls.
Keep phone messages organized in emails with a "voice to email" system. This system also frees up valuable space on phones, allowing them to run faster and more efficiently.
Save thousands on phone bills by using an Internet connection as a phone line.
Enhance professional image by connecting telecommuting employee's phones to the main business line. Customers will never know they're speaking with someone who is out of the office.
Cox offers comprehensive telecommunications and security services
Cox offers full-service phone and security solutions for businesses in North Georgia. That includes phone systems that provide all the features above, as well as integrated security systems.
Security systems offered by Cox include:
IP cameras – These digital video systems use an existing Internet connection to stream 24/7 surveillance to a digital device such as a laptop, tablet or smartphone.
Remote Viewing – Check in from anywhere – vacation, home, and even on the road – with a remote viewing system.
DVR systems – There's no better evidence than video footage to put a thief behind bars! Archived footage is also a great resource for training and education.
About Cox
Located in Gainesville, Ga., Cox has been serving the telecommunications and security needs of North Georgia since 1958. For more information, call Cox at 770-503-0000 or visit http://www.CoxComm.com.