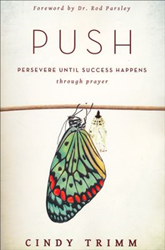 Your Breakthrough Is Only a PUSH Away
Shippensburg, PA (PRWEB) August 06, 2014
In a world addicted to shortcuts and quick fixes, perseverance has been all but forgotten. This is why so few people become innovators, entrepreneurs, and world-changers. Success is bypassed, not due to a lack of opportunity, but because we don't know how to maximize the opportunities in front of us, and PUSH – persevere until success happens.
In her encouraging and dynamic style, Dr. Cindy Trimm inspires readers to go for it. It is one thing to read about the lives of great achievers—it is another thing to join their ranks. "If you dare to believe that God has something great in store for you to do, to accomplish, or to achieve, you must be prepared to persevere in spite of your hardships, setbacks, and challenges in order to realize your dreams and accomplish your goals." This message is central to the focus of her latest book, written to give her audience that extra push.
In "PUSH", Trimm encourages and inspires her readers in ways to learn how to carry their dreams, visions, and goals "full term", and to complete fulfillment. Readers are encouraged to exercise the power of faith to overcome the impossible, and thus release God's supernatural purposes into their lives. Noting the importance of being able to resist the temptation to 'cave' under pressure, the book provides sound guidance in developing techniques to press on, even when that is extremely difficult.
Trimm's dedication to her audience is apparent throughout "PUSH"; she is co-laboring with them on their journey. Ultimately, Trimm offers the kind of insight that will enable others to develop an ability to persevere through setbacks, challenges and hardship—and empowers them to achieve success as they fulfill their divine destinies.
Interviews, review copies and giveaway copies are available upon request.
Dr. Cindy Trimm has dedicated her life to serving God and humanity. A bestselling author, high-impact teacher and former senator, Dr. Trimm is a sought-after empowerment specialist, revolutionary thinker and transformational leader. She has earned a distinguished reputation as a catalyst for change and voice of hope to the nations.
Destiny Image, located in Shippensburg, Pa, was founded in 1983 by Pastor Don Nori, Sr. It seeks to accurately represent authors who have a call to share God's present word to His people and to make these authors easily accessible to the Christian body around the world in every form of media possible.
FOR PRESS INQUIRIES, INTERVIEWS AND REVIEW COPIES:
Brad Herman
(719) 439-4960
bherman(at)norimediagroup(dot)com