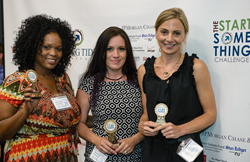 Participating in the Start Something Challenge really pushed me out of my comfort zone. It became a solid base, served as a good starting point and pushed me in the right direction.
Jersey City, NJ (PRWEB) August 05, 2014
While the economy seems to be recovering, according to Forbes magazine, "Small-Business Lending Has Not Recovered," due to structures in the lending process that seem to make the process of borrowing more difficult for entrepreneurs. Last night, three New Jersey entrepreneurs found another way to infuse cash into their businesses, by winning a total of $22,500 in cash prizes to grow their ventures at the Start Something Challenge (SSC) Grand Finale hosted by Jersey City nonprofit Rising Tide Capital. Held at the New Jersey City University's West Side Theatre, the event brought Rising Tide Capital's community of supporters, partners, funders and entrepreneurs together to hear ten SSC finalists pitch their business ideas.
Brown Mills entrepreneur Ninotchka Johnson pitched her way to first place, winning $10,000 for her handbag and accessories company Top Notch by Design. Kimberly Sumpter, Jersey City native and owner of Wax Kandy, won $7,500 to increase production of her scented, handmade, keepsake candles, and Joanna Chmarzewska, also from Jersey City, took home $5,000 for her business Crazy for Italia which distributes waterproof, inflatable seabags.
The Challenge, which was sponsored by longtime Rising Tide Capital supporters—including JPMorgan Chase, Citi Community Development—was envisioned by Rising Tide Capital as an opportunity for New Jersey entrepreneurs to learn how to market their businesses more effectively. The ten finalists progressed from an initial pool of 74 entrants and 30 semifinalists—who used a variety of online and offline marketing tools to promote their businesses and increase customer engagement. In total, the semi-finalists garnered 13,682 votes while the initial 74 SSC participates received a total of 27,232 views on their Youtube videos in the first round. In the finals, the entrepreneurs pitched head-to-head in hopes of winning the grand prize, making a six minute business pitch followed by three minutes of Q and A with the judges.
"I am so excited and totally in shock. When I first realized I won I almost cried, now I'm just excited!" exclaimed Johnson. "Participating in the Start Something Challenge really pushed me out of my comfort zone. For a while I didn't know where to start as a passionate artist and someone who is new to entrepreneurship. The Start Something Challenge became a solid base, served as a good starting point and pushed me in the right direction. I am really excited to take advantage of the resources RTC has to offer by attending upcoming workshops and seminars."
While only three entrepreneurs won cash last night, all of the finalists will receive prizes from Rising Tide Capital valued at over $10,000. Every finalist receives a free 12 month subscription to Animoto Pro—valued at $250 each—as well as a free 1-hour webinar on how to utilize Animoto to market their businesses. They also receive a free ticket to the 9th Annual Small Business Summit in New York City. The seven finalists not winning cash prizes will all receive an iPad, which will presented along with a surprise People's Choice award of $1,000 at the Start Something Champions Gala on November 13 at the Hyatt on Hudson in Jersey City. All ten finalists will also be celebrated at a showcase event hosted by MorganStanley in New York City on September 16.
"All of the ten finalists tonight were phenomenal," said Alfa Demmellash, CEO and co-founder of Rising Tide Capital. "The Challenge is an opportunity for us to make a financial investment into the dreams, visions and hard work for just three of them, but they were all winners; they had the opportunity to share their stories, show how they are solving daily problems, and to meet potential supporters, customers and partners tonight. I feel reenergized and moved beyond words, and determined to find ways to give even more people this kind of opportunity."
The business and marketing professionals judging the competition last night included Paula L. Alford, COO of NuSplash; Luis De La Hoz Vice President, Lending Team of The Intersect Fund; Steve Gomez, Executive Director, Greater Newark Enterprises Corporation; Hugo Morales, (Interim) Director of Marketing at New Jersey City University; Coretta Owusu, 2014 Winner of the Start Something Challenge, and owner of aSuiteStay; Alex Patterson, VP of Brand of Tough Mudder, LLC; Jeff Platt, Head of Marketing for Animoto for Business; Judith Sheft, Associate Vice President, Technology Department of New Jersey Institute of Technology; Andaiye Taylor, Founder & Editor-in-Chief of BrickCityLive.com and Rachel Greenwald, Program Manager, New Business Opportunities, Etsy.
"Rising Tide Capital has grown in a very smart way, marrying passion, vision and a lot of business smarts. Their compelling story attracts not only dedicated supporters, like JPMorgan Chase, but also driven entrepreneurs who believe that RTC is the place that will help them actualize their dreams. In its third year, I think The Challenge has gotten more focused and the participants are continuing to put their best foot forward. The SSC will continue to bring in a great bunch of entrepreneurs with new ideas," said Elliot Lee Vice President-Relationship Manager, Northeast Region Global Philanthropy, JPMorgan Chase & Co. who served as head judge.
This is one of many initiatives RTC and NJCU will partner on to provide technical assistance and acceleration services to New Jersey entrepreneurs as part of a recent $500,000 grant from the U.S. Economic Development Administration.
The Start Something Challenge (SSC) is a statewide pitch competition and business strengthening opportunity for New Jersey entrepreneurs. If you are interested in networking, perfecting your elevator pitch, gaining visibility for your business venture, and winning a $10,000 business grant, the Challenge is for you.
The Challenge is funded by visionary supporters and organized by Rising Tide Capital, a non-profit organization that helps entrepreneurs start and grow successful businesses. To ensure that every participant has a chance to win the top prize, Rising Tide Capital will provide each entrant with hands-on coaching and mentorship. Free to enter, the competition is open to any New Jersey resident 18 years or older, who operates a microbusiness or has a strong business idea.
To learn more, visit http://www.StartSomethingChallenge.org today.
About Rising Tide Capital
Headquartered in Jersey City, Rising Tide Capital, Inc. is a 501(c)(3) non-profit organization founded with the mission to empower entrepreneurs to create and grow small businesses which transform lives and communities. The organization's vision is to build a replicable model for high-quality entrepreneurial development services that can be adopted locally in other low-income communities. Learn more at http://www.RisingTideCapital.org