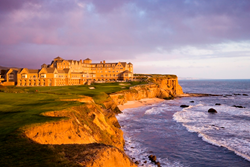 The Japanese Pearlescense Facial brings back the meaning and ritual of not only taking care of your skin, but taking care of yourself on a deeper level.
Half Moon Bay, California (PRWEB) August 07, 2014
The Ritz-Carlton Spa, Half Moon Bay introduces the Japanese Pearlescence Facial, a signature treatment that draws upon centuries of ancient beauty secrets to achieve glowing, beautiful skin.
One of the first lessons the Geisha teach is the importance of ritual, and that the ritual is to pause time for a moment to find peace. Their skincare ritual is as elegant as it is simple and consists of four steps for pure, polished, radiant and supple skin. Inspired by an ancient Japanese beauty manuscript that described how women achieved luminous complexions centuries ago , this treatment emphasizes many benefits found in natural, time-tested ingredients like pearls, seaweed, rice bran and green tea.
Combining the wisdom of generations with cutting-edge science and the healing and therapeutic qualities of the sea, the new Japanese Pearlescence Facial provides guests with a relaxing and rejuvenating experience that restores skin to its youthful radiance. Traditional Japanese acupressure techniques also promote lymphatic drainage and boost microcirculation. The 60-minute Pearlescence Facial is $185 weekday and $200 weekends.
"The Japanese Pearlescence Facial brings back the meaning and ritual of not only taking care of your skin, but taking care of yourself on a deeper level," said Spa Director Alison Abbott. "TATCHA's skin care philosophy of honoring the experience, combined with a results oriented skin care line, provides guests with an education of what it means to take care of your skin and how important it is to be intentional with the process. With crushed pearls and other elements from the sea, this new treatment aligns perfectly with our coastal location," she added.
The 16,000-square-foot Spa offers a lavish setting to indulge in relaxation and rejuvenation. The Spa features 16 treatment rooms, including 2 couples rooms and 3 facial rooms, as well as a co-ed Roman mineral bath. Guests can enjoy signature face and body treatments, including the Pumpkin Body Peel, inspired by Half Moon Bay's location in the 'Pumpkin Capital of the World.'
About The Ritz-Carlton, Half Moon Bay
Situated 23 miles southwest of the San Francisco International Airport, The Ritz-Carlton, Half Moon Bay is a 261-room destination spa and golf coastal resort, and the San Francisco Bay Area's only oceanfront resort. Set atop a rugged bluff overlooking 50 miles of pristine California coastline, the timeless oceanfront estate provides guests with a relaxed yet refined experience, whether for a romantic getaway, meeting or special event. For more information on fall activities, please contact The Ritz-Carlton, Half Moon Bay at 650-712-7000. For room reservations, contact your travel professional, visit ritzcarlton.com/HMB or call Ritz-Carlton worldwide reservations at 800-241-3333. Visit experiencehalfmoonbay.com to learn more about the destination.
About The Ritz-Carlton Hotel Company, L.L.C.
The Ritz-Carlton Hotel Company, L.L.C., of Chevy Chase, Md. currently operates 86 hotels in the Americas, Europe, Asia, the Middle East, Africa, and the Caribbean. More than 30 hotel and residential projects are under development around the globe. The Ritz-Carlton is the only service company to have twice earned the prestigious Malcolm Baldrige National Quality Award, an award that originated in 1987. Its purpose is to promote the awareness of quality excellence, recognize quality achievements of companies, and publicize successful quality strategies. The Ritz-Carlton Hotel Company won the award in 1992 and 1999. For more information or reservations, contact a travel professional, call toll free in the U.S. 1-800-241-3333, or visit the company web site at http://www.ritzcarlton.com. The Ritz-Carlton Hotel Company, L.L.C. is a wholly-owned subsidiary of Marriott International, Inc.