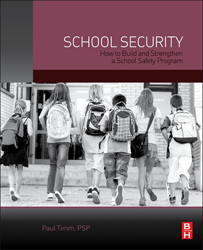 Chicago, IL (PRWEB) August 07, 2014
School Security: How to Build and Strengthen a School Safety Program is a comprehensive guide for creating an effective school security program at little or no cost. Written by board-certified Physical Security Professional, Paul Timm, the book is a resource targeting K-12 administrators.
The book, suitable for both school security professionals and educators with no formal security training, emphasizes a proactive rather than reactive attitude toward school security. Timm urges a holistic approach to educational safety rather than a focus on any particular threat. "School security is as much about providing a safe, non-threatening environment as it is about having emergency and crisis plans," explains Timm, who addresses social media and bullying alongside fundamental crime prevention concepts and risk assessment measures.
He introduces readers to basic loss prevention and safety concepts, safety information communication strategies, security awareness practices, and emergency preparedness, with the following topics:

How Safe Is Your School?
Securing Your Environment
Preparing Your People
Managing Emergencies
Tackling Social Media Risks
Timm also discusses how to positively influence student behavior, lead staff training programs, and write sound security policies. He provides a collection of additional reading and training resources.
Read more about Paul Timm's book, School Security: How to Build and Strengthen a School Safety Program here.
For review copies or to interview Paul Timm, contact Tom Ciesielka at 312.422.1333 or tc(at)tcpr(dot)net.
About RETA Security
RETA Security is an independent, non-product affiliated, family-owned school security consulting service. RETA Security, a top-rated firm since 1984, has developed the industry's only patented methodology to objectively evaluate school security programs and provide prioritized recommendations. RETA Security designs and updates school security programs, and trains school staff in planning and preparing for emergencies. http://www.retasecurity.com