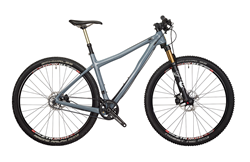 We want to... make it easier for bike manufacturers to create clean, low-maintenance bikes that get more people out of their cars and into the saddle.
Denver, Colo. (PRWEB) August 05, 2014
Gates Corporation, maker of the Gates Carbon Drive belt system, will showcase a wide range of innovative bicycles and electric bikes at Eurobike 2014 (Aug. 27-30), pursuing its strategy of partnering with leading brands and top eBike systems as it expands the market for chain-free bikes and pedelecs.
"Our strategy for Eurobike is two-fold," said Todd Sellden, director of Gates Carbon Drive Systems. "We want to show dealers, consumers and the media the wide range of Gates Carbon Drive equipped bikes that are available now or in stores soon, and introduce new products and applications that make it easier for bike manufacturers to create clean, low-maintenance bikes that get more people out of their cars and into the saddle."
Gates Carbon Drive's Eurobike booth (A2-203) and Demo Day tent will display a diverse collection of bicycles in many styles: pedelec, urban, mountain, trekking, foldable, fat, cargo and fixie. Gates will display bikes with Carbon Drive from Canyon, Stevens, Grace, Biomega, Ibis, Idworx, Flitzbike, Nicolai, Schindelhauer, Overlap, Dvoika, Faraday and Electrolyte.
Other brands displaying new or updated Gates equipped bikes and pedelecs in their own booths include Ghost, Cube, Marin, Tout Terrain, Kettler, Mika Amaro, Patria, Riesse & Muller, Pilot, Derby, BMC, and more. New eBike brand Klaxon will launch 12 new models with Gates Carbon Drive in its booth and Demo tent.
For product managers considering new pedelecs, Gates will display a range of Carbon Drive compatible eBike systems: Bosch, Panasonic, Yamaha, Impulse, MPF, SIMBB, GO SwissDrive, Hoganas and BionX. Gates is currently working with Shimano to integrate with its STEPS eBike drive in 2015. Gates has also published a new eBike Technical Integration Manual for manufacturers to more easily specify Gates Carbon Drive.
"The electric bike category is a strong growth segment for Gates Carbon Drive because our system provides a clean, smooth and simple alternative to chains for daily transportation," said Sellden. "We are also proud that Gates belts are being used on so many different styles of bikes. Our motto for Eurobike 2014 is 'Belting the World's Best Bikes and eBikes.'"
For mountain bikers, Gates will display the new Ibis Tranny "Unchained" belt drive singlespeed—among the most coveted singlespeed race bikes available. Nicolai will likewise show its new Ion 16 enduro bike with Gates belt and Effigear gearbox. This innovative MTB pushes the boundaries of what is possible for a rugged and low-maintenance enduro bike.
Gates will also display the leading geared hubs (NuVinci, Rohloff, Shimano, SRAM) and gearboxes (Pinion, Effigear) that are compatible with Carbon Drive. The Gates belt and sprocket system is now compatible with the widely popular NuVinci Harmony. Gates will also display a new gearbox technology from Kappstein that will be shown on a Schindelhauer urban bike.
Continuing its global outreach and brand building, Gates Carbon Drive has launched a German-language website (de.gatescarbondrive.com) and published its Owner's Manual in six languages to better serve dealers, manufacturers and users of Gates Carbon Drive equipped bikes. Gates continues to expand its distribution network, with new distributors in the United Kingdom, Spain, Singapore and Vietnam.
Other new products and initiatives include:

A sonic tensioning app that uses the microphone on Android smartphones to "tune" belt tension by plucking it like a guitar string. The Android app complements the previously launched iPhone tensioning app.
A 132-tooth belt, the longest available in the Carbon Drive line.
The Gates Carbon Drive product line now includes 35 belt sizes, 65 sprocket sizes, and 14 crankset offerings across the CDX, CDC and Tandem platforms, offering thousands of gearing combinations. Launched in 2007, Gates has devoted years of R&D to testing, redesigning and evolving its product to meet the highest standards of durability and functionality. Gates Carbon Drive is race proven on the World Cup Downhill circuit and in the singlespeed mountain and cyclocross categories, and it has powered adventurers on global expeditions and multi-day endurance events.
"Gates will continue to expand the product line by adding more belt and sprocket sizes and crankset options in the coming year, along with some new products that will allow bike makers to specify Carbon Drive on all styles of bikes at a wider range of price points," Sellden said.
About Gates Carbon Drive
Consisting of two lightweight metal sprockets and a high-strength belt embedded with carbon fiber cords, Gates Carbon Drive™ is a low-maintenance, chain-replacing technology from Gates Corporation, the global leader in automotive and industrial belts. Clean, quiet, light, and strong, Carbon Drive requires no greasy lube, weighs less than a chain drive and will not stretch. Due to its low maintenance and ease of use, Carbon Drive is a technology that can get more people on bikes. http://www.gatescarbondrive.com