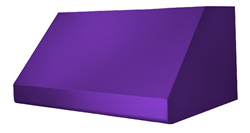 With Prizer Hoods, the opportunity to combine the latest in fashion colors, unique trims and finishes and professional, high-performance ventilation functionality is a possibility.
Reading, Pa. (PRWEB) August 07, 2014
Prizer Hoods, recognized as a market leader in luxury, customizable kitchen hoods, is bringing on-trend colors from the runway into the home kitchen with the introduction of the new Jewel Tones collection. Currently offering a plethora of on-trend hoods with nearly unlimited personalization options for the home kitchen, Prizer Hoods' newest collection will feature six bold, gemstone color options.
The new Jewel Tones line from Prizer Hoods will feature six colors: Ruby, Amethyst, Topaz, Emerald, Mahogany and Sapphire. The Jewel Tones collection, in addition to rich color, features finishes similar to the glossy sheen prized on a luxury car. These hues can be added to any of the line's 50+ unique hood designs. For a true custom look, select a preferred hood style, choose the new Ruby Jewel Tones color and give the hood a unique finished look by applying polished nickel strappings, almost like setting a beautiful gemstone in a precious metal setting. This use of unique metals, colors and trims provides customization options that go far beyond standard stainless steel appliances.
"We are excited to bring to market the uber-fashionable Prizer Hoods Jewel Tones line," says Eliza Sheffield, vice president of marketing for Prizer Hoods. "Prizer Hoods is a leader in color and customization when it comes to home kitchen hoods. No other manufacturer has the robust color offerings available with Prizer Hoods. Now, the opportunity to combine the latest in fashion colors, unique trims and finishes and professional, high-performance ventilation functionality is a possibility."
The Prizer Hoods line features unique hood styles, ranging from modern to classic, which can be customized with a spectacular range of color, texture and metal offerings to allow designers and homeowners to make a unique statement in the designer home kitchen. Homeowners and designers are able to begin the customization process by selecting one of seven metal finishes and 750+ colors plus a variety of trims and finishes to suit any home kitchen style whether from contemporary, minimalist, sleek or ultra-modern. Additionally, a custom hood can be commissioned by working with a world-class design and drafting department to create from scratch a unique piece according to the customer's precise specifications.
Every home chef must have a high performance ventilation hood to accompany a high performance, high heat range. Prizer Hoods are designed to ensure the best cooking experience with a variety of professional-level quality and features. Commercial-style baffle filters are incorporated for maximum grease removal, simple cleaning and quieter operation. Separate interior liners provide the largest capture area available for easier cleaning, while high heat automatic sensors make the units safe for high heat cooking. A durable three-speed fan ensures a quiet cooking experience. When designing a Prizer hood, designers and homeowners can select the exact motor needed (plus the desired location of the motor) to provide professional-level performance required for restaurant- quality dishes at home. The seamlessly constructed three-piece hoods have bright, thick-lens halogen lights that come standard on all hood models. Each Prizer Hood is handcrafted in Reading, PA with high-quality materials including 16 gauge metal and stainless steel internal liners with double wall construction.
For additional information on Prizer Hoods products, to locate a dealer in your area, or to request a quote, please visit http://www.prizerhoods.com.
###
About Prizer Hoods
Prizer Hoods®, Design That Performs. With luxurious and fully customizable designs, in a wide range of metal options, trims and finishes and almost endless color combinations, Prizer Hoods makes the ultimate statement in any kitchen. Each hood is handcrafted in Reading, PA with precision on state-of-the-art equipment to ensure consistency and quality. Built to meet professional standards inside and out, Prizer Hoods combines high-gauge metals and commercial-style baffle filtration systems so anyone can cook like a pro. The collection of professionally-inspired home ventilation systems combines world-class design with the latest in professional hood technology. For information, visit http://www.prizerhoods.com.