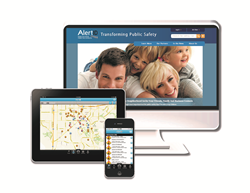 "Back to school is a great time for families to discuss safety with their children, review safety tips and be aware of threats at home and school." - Keli Wilson, Founder, AlertID
Las Vegas, NV; San Francisco, CA; and Arlington, VA (PRWEB) August 06, 2014
Kids around the country are getting ready to go back to school and their safety is always top priority for parents. Back to School is the perfect time for AlertID and the National Crime Prevention Council (home to McGruff the Crime Dog®) to share an important new app and 7 simple tips to get the school year off to a great and safe start.
AlertID has partnered with the National Crime Prevention Council (NCPC) to create the McGruff Mobile App. AlertID is the free national online and mobile service, which helps to reduce crime while providing a safe way for people to receive and share trusted public safety alerts and information. Download the McGruff Mobile smartphone app (powered by AlertID) and enroll for a free membership. Once enrolled, members are able to view an interactive map displaying crimes and sex offenders in their neighborhoods. They will be able to receive alerts and information via email or mobile device for multiple locations such as their homes, schools, offices, or current locations. After signing up, members then have the ability to receive law enforcement emergency alerts, crime and sex offender alerts, prevention tips, and much more. It also includes a virtual neighborhood watch where members can share photos and information regarding suspicious activity with neighbors, police, and even Homeland Security.
In addition to downloading McGruff Mobile so that parents can be aware of the dangers in their neighborhoods, please review these 7 simple tips to keep kids safe for "Back to School":
On the Way to School: Map out a safe way to walk to school or to the bus stop. Avoid crossing busy roads and intersections, if possible. Do a trial run with your kids so that you can discuss areas to avoid along the way, such as vacant lots, construction areas, and parks where there aren't many people. Encourage kids to walk to school or the bus stop with a sibling or friend, and wait at bus stops with other children. Snap a photo of your child and enter up-to-date descriptions into the My Family Wallet™ (located within the AlertID mobile app). If the child goes missing, members may access the information on their smartphones and send it quickly to law enforcement when every moment counts.
While at School: Ask about the safety and emergency plans for your children's school. How are local police involved? How are students and parents involved? What emergencies have been considered and planned for? Create a group on AlertID with your school administrator to share emergency information with staff, parents and others via email and push notification. Teach children to resolve problems without fighting. Talk to them about other ways they can work out a problem, such as talking it out, walking away, sticking with friends, or telling a trusted adult.
After School: Talk to your children about their day. Ask your children if they see anyone bullied, if they are bullied, or if anything else makes them feel uncomfortable. Look for warning signs of bullying, such as a sudden drop in grades, loss of friends, or torn clothing. If you see something that is suspicious in your neighborhood, report to local law enforcement and post information and updates to your neighbors on AlertID to warn neighbors. Keep an eye on your children's Internet use. Talk to your children about what they do online – what sites they visit, who they email, and who they chat with. Encourage them to speak up if something makes them uncomfortable, or if they witness forms of cyberbullying such as threats or harassment.
"Back to school is an important time for families to discuss safety with their children, review safety tips and be aware of threats to their children at home and school," said AlertID founder, Keli Wilson. "The more informed we are as parents, the safer our children and the community will be."
The McGruff Mobile app is available for download on iTunes or the Android market. To sign up for a free AlertID account, or for more information, please go to http://www.AlertID.com.
About the National Crime Prevention Council
The National Crime Prevention Council is the nonprofit leader in crime prevention. For more than 30 years, our symbol of safety, McGruff the Crime Dog, has delivered easy-to-use crime prevention tips that protect what matters most—you, your family, and your community. Since 1982, NCPC has continuously provided the American public with comprehensive educational materials, training programs, and effective crime prevention messaging, delivered in large part through its vast network of more than 8,000 state and local law enforcement agencies, crime prevention associations, community groups, foundations, and corporate partners. For more information on how NCPC can be a public safety expert for you or how to "Take A Bite Out of Crime®," visit http://www.ncpc.org.
About AlertID, Inc.
AlertID is your family neighborhood safety network. AlertID offers sex offender alerts that cover more than 90% of the US population and crime alerts for hundreds of cities in the US and all of England. AlertID has more than one million members in 85% of US zip codes and more than 30 countries. AlertID has proven to help reduce crime, using secure and proven technology to create two-way communication between citizens and federal, state, and local authorities to provide immediate information on crime, terrorism, natural disasters, or severe weather that can threaten the safety of families and communities. For more information, visit http://www.AlertID.com.