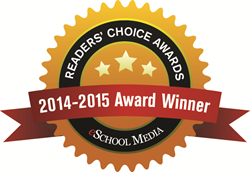 Nepris is "an awesome way to connect your classes with an expert or even other classes around the country that are studying the same units." -- LeAnn Waldie, instructional technologist, Godley Independent School District in Texas who nominated Nepris
Dallas, TX (PRWEB) August 06, 2014
Nepris has been picked by educators as one of the top education technology products in the 2014-15 Reader's Choice Awards published by eSchoolNews – an online and print source for education news and resource information. Nepris is an online platform which virtually connects professionals to classrooms for online, interactive discussions about applications of STEM (science, technology, engineering and math) in the working world.
After its first full year of implementation in schools, Nepris was picked as one of the 50 best from over 1,300 nominations. The Readers' Choice Awards "is a list of ed-tech products and services that have proven to be effective," said eSchoolNews Editorial Director Dennis Pierce. "We hope readers will find this information valuable as they consider what technologies they should use in their own schools."
"It is a great honor for Nepris first to have been nominated by teachers and administrators and then, to be singled out by eSchoolNews as one of the best education products for helping students learn," said Sabari Raja, CEO and founder of Nepris. "Nepris solves the problem of how to bring industry exposure to the classroom when a school has limited access or is located far away from businesses. In the classroom, Nepris provides teachers a way to connect curriculum to real life and bring excitement to their students in a meaningful way."
Before Nepris, professionals and companies did not have a scalable, effective way to reach out to teachers who needed someone to talk with their students. Teachers had equal difficulty connecting with professionals in STEM. Since being launched six months ago, Nepris has addressed these problems, becoming a vehicle for workforce development and community outreach for companies while simultaneously helping teachers expand their students' horizons.
Professionals and educators can see examples of virtual sessions and enroll their company or school at Nepris.com. Companies can sponsor teachers, schools or districts. Individual teachers from elementary, middle or high schools can sign up for a free trial at any time.
About Nepris
Dallas-based, Nepris, brings STEM to life by connecting professionals with teachers and their students. With Nepris, teachers find professionals who--through interactive, online sessions--show students how the work they do is rooted in the science, technology, engineering and mathematics being taught in school. See Nepris in action at Nepris.com/webinar or sign-up as a teacher or STEM professional at Nepris.com.