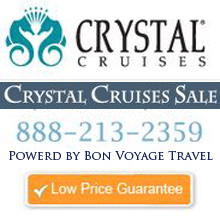 (PRWEB) August 07, 2014
CrystalCruisesSale.com, the online cruise sale division of Bon Voyage Travel and preferred partner of Crystal Cruises, is pleased to announce Crystal Cruises' new expedition-style voyage traversing the Arctic Ocean. The Northwest Passage cruise will travel 500 miles north of the Arctic Circle, and will be the first luxury cruise to ever navigate the route.
The cruise will travel through 900 miles of waterways lined with spectacular glaciers, towering fjords, and vast unspoiled landscapes away from mainstream civilization. Beginning August 16, 2016 in Alaska, the award-winning Crystal Serenity will sail for 32 days from the Pacific to the Atlantic Ocean, ending in New York City. Major changes for this sailing include: a flexible itinerary, new onshore tours and activities and a 14-person expedition team of experts to accompany guests. The flexible itinerary means there will be special "surprise" days built into the schedule to allow for unplanned activities like polar bear-viewing, whale-watching, glacier-cruising, scenic helicopter flights and more.
The initial booking window will only be available to guests who have sailed with Crystal before (Crystal Society members). Non-members may add their name to a waitlist, and remaining space, if any, will open to the public on September 2. CrystalCruisesSale.com specializes in providing the best deals and amenities for Crystal cruises, and to celebrate this unique new itinerary they are providing $2,000 in added value and savings. To learn more about the Northwest Passage Cruise and how to save, visit CrystalCruisesSale.com.
About the Author: Crystal Cruises Sale is one of the online Cruise Sale divisions of Bon Voyage Travel, a travel agency founded in 1976 in Tucson, Arizona. With over 35 years leading the travel industry, Crystal Cruises Sale offers additional amenities and superior service to those seeking the best cruise experience. Crystal Cruises Sale is one of ten dedicated online Cruise Sale websites, which successfully serve thousands planning their cruise vacation at the lowest price.