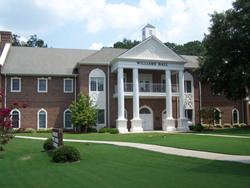 New accelerated masters degree meets the needs of busy ministers.
Atlanta, GA (PRWEB) August 07, 2014
Luther Rice University and Seminary, a higher education provider of affordable, biblically-based, Christian education headquartered in metro-Atlanta, announces today that it now offers a new graduate degree. Designed with the busy minister or church leader in mind, the new Master of Arts in Ministry degree program is available via 100% online classes or traditional campus-based studies. Students have the option to complete the program in 18-24 months as an accelerated degree.
Providing Practical Ministry Skills
The new 36-hour program consists of 12 courses designed to assist church leaders in acquiring practical skills for leading in a local church or support ministry. All the courses come from three main subject areas: biblical studies, theological studies, and ministerial studies. The program includes courses on Old and New Testament studies, systematic theology, the work of ministry, preparing an expository message, and other topics directly related to ministry.
Teaching How to Develop Highly Effective Ministries
Graduates will learn how to evaluate ministries in light of the Great Commission and the Great Commandment, and be leaders in developing, designing, and implementing highly effective ministry initiatives.
From the V.P. for Academic Affairs
"There is a need for more leaders who are trained in biblically sound theology, but many people are not able to uproot their families and move to go to seminary. This new ministry-focused degree program, which can be earned completely online in an accelerated fashion, meets the needs of busy pastors and church staff who may not desire a long divinity degree," said Jeff McCann, Acting Vice President for Academic Affairs at Luther Rice.
About Luther Rice:
Luther Rice University and Seminary has been cultivating an environment of Christian excellence since 1962 and is known for providing high quality theological programs for ministers and Christian leaders. The faculty believes—and teaches—that the Bible is the infallible, inerrant Word of God. Programs are available through flexible online courses, allowing students to earn degrees anywhere in the world. Currently, Luther Rice has students in 49 states and 26 foreign countries. Courses are always current and cutting edge, optimizing the online learning environment experience.
To request information about Luther Rice and the new Master of Arts in Ministry degree, visit http://www.LRU.edu or call 770-484-1204.
Media Contact:
Russell Sorrow
Director of Marketing
Luther Rice University and Seminary
Russ@LRU.edu
770-484-1204 ext. 5279