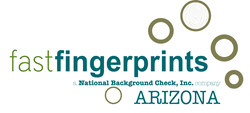 Columbus, OH (PRWEB) August 06, 2014
FastFingerprints, a National Background Check, Inc. company, has expanded its livescan fingerprinting services to Arizona. FastFingerprints' fingerprint card capabilities are now available at the Gilbert and Scottsdale campuses of the Arizona School of Real Estate and Business.
These new locations utilize FastFingerprints' livescan fingerprint capture, which has the ability to obtain the best quality fingerprint images for fingerprint cards. This service can be used in order to obtain the necessary fingerprints cards required to submit an application for an Arizona Fingerprint Clearance Card. Applicants can walk into one of these locations, without an appointment, and within minutes have their fingerprints captured onto cards. These new FastFingerprints' locations can also assist individuals who require fingerprint cards for other out-of-state licensing or employment reasons, or for submission of a personal FBI background check though National Background Check, Inc.'s FBI Channeling service.
The new FastFingerprints in Gilbert is located at 665 N. Gilbert Road, Suite 135, Gilbert, AZ 85234. The FastFingerprints in Scottsdale is located at 7142 E First Street, Scottsdale, AZ 85251. Both locations welcome walk-ins, are open Monday-Friday 8:30am - 5:00pm, and are located inside the Arizona School of Real Estate and Business.
Additional information about FastFingerprints in the state of Arizona can be found at http://www.FastFingerprintsArizona.com. Please check the website regularly for more information on the services offered, and updates on future locations to the FastFingerprints network.
About FastFingerprints
FastFingerprints, a division of National Background Check, Inc., has been a leader in the services, technology, and equipment required to process state and FBI background checks via electronic fingerprinting for over 15 years. In addition to 14 locations in Ohio and 22 in Florida, FastFingerprints' parent company (NBCI), is one of the few companies in the nation to be recognized by the FBI as an approved FBI Channeling Agency that processes FBI requests for federally legislated purposes. More information on acquiring an FBI criminal history check for federal reasons, can be found at http://www.nationalbackgroundcheck.com under the FBI Channeling tab.