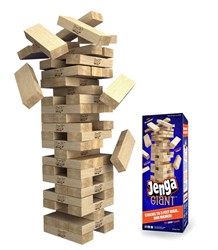 Jenga® GIANT™ brings a whole new level of anticipation, excitement, and suspense as you watch your tower stack up over three feet tall. It's the perfect game for any gathering. This game rocks!"
Los Angeles, CA (PRWEB) August 06, 2014
Get ready for bigger build-ups and bigger crashes, as the classic block-stacking, stack-crashing game Jenga® now has its own GIANT counterpart! Jenga® GIANT™ debuts on Amazon and with other retailers this month, joining the world famous Jenga® brand which has sold more than 70 Million games worldwide.
Manufactured and distributed by Art's Ideas, Jenga® GIANT™ is the only genuine, licensed, giant, wood Jenga® game. It weighs a total of 17 lbs. and can stack up to three feet and higher! Jenga® GIANT™ uses the same rules as Classic Jenga® and comes with 54 precision cut, high quality, polished hardwood blocks in a sturdy box designed as a game play platform and for easy storage and transport.
Jenga® GIANT™ is perfect for backyard BBQs, birthday and holiday celebrations, college parties, and everywhere people gather together to have fun. Now it's a party!™
"We are thrilled that our licensee, Art's Ideas, has chosen Jenga® GIANT™ to join the visually stunning Jenga XXL® game," said Paul Eveloff, partner of Pokonobe Associates, the licensor of the Jenga® brand. "Jenga® GIANT™ brings a whole new level of anticipation, excitement, and suspense as the tower stacks up to over three feet tall. It's the perfect game for any gathering. This game rocks!"
Jenga® GIANT™ is recommended for one or more players, ages 10 to adult, and lists for $129.99 on JengaGiant.com, the company shop. An accessory kit will be available on jengagiant.com in September. It includes a sturdy carry bag to make it easy to throw the game in the car to take to the beach, a party, or most anywhere. It also includes a white Chalk Ink Marker to encourage writing personalized messages, truths or dares, educational information, marriage proposals, or anything you want on the blocks. A damp cloth will eliminate the "graffiti" and clean the slate for future messages. Lastly, it includes a strong, clear acrylic play base that seems to disappear, giving the illusion that your massive tower is floating in the air. This base makes it easy to play in the sand and on other uneven surfaces, and raises the game off the ground so players can stay on their feet, constantly moving around the tower, turning Jenga Giant into an active sport rather than a table game.
Jenga® is the original wood block game for suspense-building, Edge-of-Your-Seat-Fun!® launched in the United Kingdom more than thirty years ago and is owned by an estimated one in five American and Canadian households. It has many licensees such as Hasbro, USAopoly, Art's Ideas, and NaturalMotion Games, Ltd., a subsidiary of Zynga.
The Jenga® mobile App features realistic physics, touch control, and social gameplay with stunning visuals and authenticity, and is available on the Apple App Store, Google play, and the Amazon Appstore.
Watch Jenga® Giant™ in action and hear the brand new Jenga® Jingle at http://www.facebook.com/Jenga
Jenga® GIANT™ – Now It's a Party™… and It's Your Move!
For more information: http://www.jengagiant.com or http://www.jenga.com
SOCIAL MEDIA:
https://www.facebook.com/Jenga
https://www.youtube.com/jenga
http://www.pinterest.com/jengaofficial/
https://twitter.com/jenga
http://instagram.com/jenga
#HowDoYouJenga?®
CONTACT:
Robert Grebler, Art's Ideas: 310-424-4527
rgrebler(at)jenga(dot)com
###