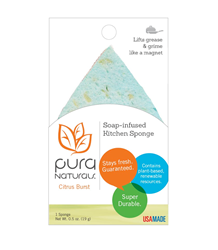 The product not only visibly cleans surfaces but also extracts oils and other contaminants left behind through a one-of-a-kind patent-pending manufacturing process.
Lake Forest, CA (PRWEB) August 06, 2014
Following the recent launch and success of its personal bathing products, Pura Naturals is pleased to announce a new line of sustainable household sponges that are made in the U.S.A., specially designed to make cleaning kitchen and bath surfaces more efficient and earth conscious ™. Pura Naturals repel water – inhibiting bacteria growth, odor and other issues often associated with the use of household sponges.
"Pura Naturals new line of household sponges utilizes the absorbing technology of BeBetter Foam ™ to lift grease and grime like a magnet. Pura Naturals sponges are made with a scrubber pad crafted from walnut shells and recycled materials. The result is less time and effort to clean kitchen and bath surfaces," said Jim Kordenbrock, CEO of Pura Naturals LLC.
Created from the same unique foam approved by the U.S. Environmental Protection Agency to clean sensitive waterways, Pura Naturals is used just like a traditional sponge but packs the power of a unique technology unlike any other surface-cleaning product.
Another revolutionary feature is that Pura Naturals is able to infuse soap into their sponges. The product not only visibly cleans surfaces but also extracts oils and other contaminants left behind through a one-of-a-kind patent-pending manufacturing process.
Pura Naturals will initially launch two home cleaning products- a kitchen sponge and a household sponge. The ergonomic leaf shape of the kitchen sponge and standard rectangle shape of the household sponge is available in a citrus soap-infused and no soap-infused options. Each type of sponge also has the option of a walnut scrubber ideal for removing difficult stains from countertops yet safe to use on scratch-prone appliances. Available in either a single-pack, three-pack or six-pack, customers can mix and match their preference of no-soap, soap-infused, abrasive side and non-abrasive sponges priced between $1.59 and $7.99.
Pura Naturals are created from renewable, plant-based materials, avoiding the use of petroleum by-products wood cellulose materials. The unique manufacturing process removes carbon from the atmosphere, allowing consumers to personally offset their carbon footprint with each purchase. The soap-infused sponges use a specially designed all-natural, biodegradable degreasing cleanser (made with essential oils, vitamin E, jojoba, and coconut oil) from Level Naturals to powerfully remove oil, dirt, grease and grime from your pots and pans. The soap is also gluten-free, cruelty-free, pH Neutral and does not contain sulfates, parabens or phthalates.
For additional information, visit PuraNaturalsUSA.com, call 1-855-326-8537, or e-mail info(at)puranaturalsproducts(dot)com.
# # #
About Pura Naturals LLC
Pura Naturals LLC was founded in 2013 as the consumer products arm of Advanced Innovative Recovery Technology, Inc. (AIRTech). Conceived in response to the ongoing degradation of the Earth's oceans, lakes and rivers, AIRTech commercialized a unique, EPA-approved foam technology designed to rapidly and effectively remove toxic pollutants from waterways. Sensing that the material could be used for other applications, Pura Naturals has created a line of personal care and household products to help people clean better, live better and be better. All products are manufactured in the U.S.A. For more information, visit PuraNaturalsUSA.com.
Media Contact
Emily Drzewiecki
McDougall Communications for Pura Naturals
emily(at)mcdougallpr(dot)com or 585-331-9573