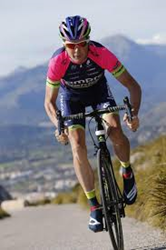 The Black Rhino Cycling Team says It's the most outrageous season-ending ride, EVER.
Sacramento, CA (PRWEB) August 05, 2014
Congratulations are in order for Chris Horner, a professional road bike racer from the Sacramento Area, who placed 17th in the recently concluded 2014 Tour de France. Amongst the American's, Horner placed second, following Tejay Van Garderen. Horner, now 42, has posted some of his best results over the past couple of years; including his win at the 201. 3 Vuelta a Espana (Tour of Spain) as well as his 2011 win at the Amgen Tour of California. An accomplished veteran in the sport, Horner is the eldest rider to win a Grand Tour. Just Monday he participatied in the tour of Utah, a race in which he placed 2nd back in 2013.. As the first American to win the Tour of Spain, Horner will be returning in 2014 to defend that title.
This October 9th and 10th, Chris Horner will be returning to the Sacramento Area, to Ione, a quaint California town nestled amongst the breathtaking scenary of Amador County. While in Ione, he will attend the 5th annual Clark's Corner Cycling Challenge as the guest of honor. Horner, the guest of honor at all past events, brings with him captivating stories that he shares during a meet and greet dinner the night before the ride. Past participants Patrick and Dot Glenn commented "Where else can you ride around with a grand tour winner?" The Black Rhino Cycling Team, one of the many teams to support the ride added "It's the most outrageous season-ending ride, EVER. At the end of a long season, you actually live the dream of riding with a GC tour rider and, more importantly, an incredibly gracious man."
On Saturday morning at 9am, the riders will embark on a 10, 30, or 50 mile ride through Amador County, enjoying the stunning countryside views along the way. Following the ride, the participants will be treated to lunch and an all-access opportunity to meet, and mingle, with Chris Horner. This two day event has not only drawn riders from all over the state and beyond, but will also be benefiting the Interfaith Food Bank of Amador along with other notable charities.
About Clark's Corner: A community center and cafe that is helping to create a rural revival in Ione and Amador County. In addition to being a gathering spot, Clark's Corner supplies diverse entertainment and excellent culinary offerings, including: our Friday night prime rib, monthly trivia, Sunday buffet and much more. We also offer catering services for events of all sizes. A service which has flourished due to our loyal customers, their kind recommendations, and of course our tremendous Chef, Chris Martin.
Contact: Kraig Clark (916) 548-6552 or by email through the Web site: http://www.clarkscornerione.com.