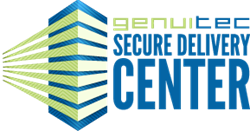 Advanced Team Delegation in SDC lets you sneak in compliance to software development teams with ease.
Dallas, TX (PRWEB) August 06, 2014
Genuitec, makers of Secure Delivery Center (SDC), introduces new split responsibility options for development teams. Team leads now able to customize their tools based on centralized packages set up by IT Administrators. And Admins can manage critical updates across their enterprise while allowing team leads to control parts of their IDE.
Download Service Release 1 for SDC 2014 here: http://www.genuitec.com/products/sdc.
"Advanced Team Delegation in SDC lets you sneak in compliance to software development teams with ease. Add the flexibility of centralizing and enforcing standard software with compliance settings without disrupting your developers secret sauce. SDC 2014 SR1 makes it simple to find the right balance when supporting a team of software developers," said Tim Webb, director of sales strategy and innovation at Genuitec.
Advanced Team Delegation in SDC 2014 SR1 simplifies complex tooling setups. Utilizing simple toggles, Admins are now able to split responsibilities with Team Leads. This gives each employee the opportunity to focus on what's important to them. Admins focus on top-level functions like security, compliance and version control. Team Leads focus on managing team-specific tools and project level settings. And developers do what they do best without interruption, code.
SDC was made with teams in mind, making management of tools and installs a breeze. Grab plugins and tools from the cloud, and even pull in company-specific tools. SDC delivers tools at the right time, ensuring teams are always in sync.
Additionally, SDC makes getting the latest versions of plugins and tools to entire teams simple. SDC provides a notification center to alert for any updates from where Admins or Team Leads can update at will. Admins may use the test center to ensure updates play nice with existing tools. When vetted, a simple click adds the update to team packages, making adoption instantaneous.
SDC packages and delivers everything teams need to start coding on day one into a consolidated package. Setting up packages requires minimal effort and most teams are up and running in 20 minutes. SDC is available as a complimentary 30-day trial at http://www.genuitec.com/sdc/download/. Trial and paid SDC licenses include all updates at no extra charge. Learn more about our value-driven pricing on our Pricing page. Enhanced service agreements are available and vary in cost.
About Genuitec
Started in 1997 and counting over 16,000 companies in 191 countries as customers, Genuitec is a leader in the Eclipse open source community. As a founding member of the Eclipse Foundation, Genuitec has actively participated in strategy, development, and direction for the organization.
Today, Genuitec supports one of the largest developer communities for commercial Eclipse tools. Customers benefit from Genuitec's ongoing commitment to open standards and to the continual enhancement of the MyEclipse, Secure Delivery Center, PiPlug, and Mobile Tools product families with unique innovations and low subscription pricing.
Contact Genuitec today to learn more: genuitec.com/company/contact.
Follow on Twitter: @genuitec
Like on Facebook: facebook.com/Genuitec
Find on Google + : plus.google.com/+GenuitecHome