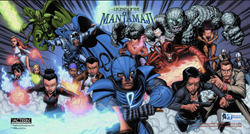 "The Legend of the Mantamaji" is the culmination of all the things I've learned from directing: the story has to have heart, has to mean something and has to take the audience on a ride.
Los Angeles, CA (PRWEB) August 07, 2014
"The Legend of the Mantamaji" series, created by Eric Dean Seaton, director of over 175 television episodes for Disney Channel, Nickelodeon, NBC, etc., is now available for order for comic book and graphic novel stores using item number #AUG140977. The series was the only Comic-Con Exclusive by an independent publisher at this year's 2014 San Diego event. A three book series, the book one is set for release on October 8th, with release dates for book two and three scheduled for December 10, 2014 and February 11, 2015, respectively.
"The Legend of the Mantamaji" follows the story of Elijah Alexander, a brash assistant district attorney, who suddenly discovers he is the last of an ancient race of warriors sworn to protect humans. Fast-paced, heart stopping action combines with a layered, thoughtful story full of hair-raising plot twists as Elijah struggles with the truth of who he is and what he means to the world. View sample here.
Diversity in comics/graphic novels has been a hot topic as of late, amplified by Marvel's multiple announcements ahead of San Diego Comic-Con. What's missing is the creation of new characters of color with rich canon that readers can argue about for decades.
The book features lettering by Deron Bennett, who was nominated for an Eisner Award two years ago for his work on titles like Jim Henson's Dark Crystal, Jim Henson's Tale of Sand and Helldorado, among others.
Seaton grew up wanting to become a director, yet never forgot the days he spent devouring comic books in his hometown of Cleveland, Ohio.
"The Legend of the Mantamaji" is the culmination of all the things I learned about story telling while working for Disney Channel and Nickelodeon. Their characters can be broad and the stories tailored more towards kids, but the art of telling a story is the same. You have to have heart, it has to mean something, the main character needs to be flawed and learn a lesson and you have to take the audience on an adventure."
Director Eric Dean Seaton's new graphic novel series, "The Legend of the Mantamaji," is available for August order (#AUG140977) for comic and book stores before 8/20/14. View the book trailer on YouTube today.
About Eric Dean Seaton:
As an episodic director, Eric Dean Seaton has helmed over 34 different shows, 175 television episodes, 18 music videos, two pilots for Nickelodeon, two pilots for Disney XD and has directed episodes of the NBC/Warner Bros. comedy "Undateable," BET's "Let's Stay Together" and "Reed Between the Lines." He directed the pilot and co-executive produced the Starz Kids and Family Channel and international hit, "The Wannabes Staring Savvy." He has dreamed of being a comic book creator since his childhood in Cleveland, Ohio. Eric, his wife, son and daughter live in California. You can see Eric's work at EricDeanSeaton.com or follow him @ericdeanseaton on Twitter.
About Legend of the Mantamaji:
Legend of the Mantamaji: Book 1 Paperback – October 8, 2014
Eric Dean Seaton (Author)
David Ellis Dickerson (Editor)
Brandon Palas(Illustrator)
Paperback: 216 pages
Publisher: And... Action! Entertainment; 1 edition (October 8, 2014)
Language: English
ISBN-10: 1930315341
ISBN-13: 978-1930315341
Order #: AUG140977