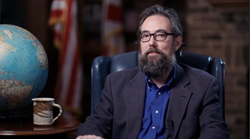 "The absence of historical perspective is hindering effective response, particularly now—when terrorism is a grave threat to our national security," said Dr. Law.
Birmingham, AL (PRWEB) August 07, 2014
From the aggressive Al Qaeda affiliates in Africa to the Boston Marathon bombings, it seems terrorism is always in the headlines. But the news doesn't always tell the full story. Terrorism expert Dr. Randall Law explains that we can understand more about terrorists' motives and methods by studying their history. Dr. Law argues that contemporary discussions of terrorism lack vital historical context.
Birmingham-Southern College, a private liberal arts college located in Birmingham, Alabama, will offer a massive open online course (MOOC) titled "The History of Terrorism." Taught by Dr. Law , the 8-week course will start on September 8, 2014, and be offered through CourseSites by Blackboard. Dr. Law has written a key book on the subject and is currently editing The Routledge History of Terrorism.
The course will reach back to the ancient world and explore the development of terrorism in the 19th and 20th centuries, culminating with the post-9/11 War on Terror. This course will equip students to analyze the causes of and responses to terrorism. Topics will include:

The political, social, and cultural causes of terrorism and political violence;
Popular responses to terrorism;
Changing definitions of terrorism;
And the impact of terrorism in the modern world.
Participation in "The History of Terrorism" is open to all. Students can access the course for free. For a small fee, students who complete the entire course, including written assignments, may earn a certificate of completion to satisfy continuing education requirements in various professional fields including the military, law enforcement, and education.
Dr. Law holds a B.A. from Amherst College, an M.A. from Yale University, and a Ph.D. from Georgetown University. He earned a prestigious Fulbright Research Scholarship to research early 20th Century terrorism in Odessa, Ukraine. He has received both the ODK Excellence in Teaching Award and the Richebourg Gaillard McWilliams Faculty Scholarship Award.
Birmingham-Southern College is a four-year, private liberal arts institution in Birmingham, Ala., founded in 1856 and affiliated with the United Methodist Church. It enrolls about 1,200 students from more than 30 states and 16 foreign countries. For more information or to register, visit our website at http://www.bsc.edu/mooc/.