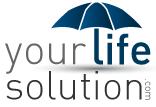 (PRWEB) August 06, 2014
YourLifeSolution.com, a service which provides transparency in instantly comparing life insurance products online, has just published an infographic which graphs the aggregate premiums for permanent life insurance based on the conservative estimate that people generally live until 80 years old. "According to CSO mortality tables, men are living until about 76 and women till about 79, but I decided to use the age of 80 as a benchmark to be extra fair. The purpose of this was to illustrate with simple math that whether an individual dies in 1 year, 5 years, 10 years, or lives a full life, life insurance still makes financial sense," said Eric Smith, the founder of YourLifeSolution.com.
YourLifeSolution.com's infographic which espouses the cost-effectiveness of permanent life insurance can be viewed here: http://life-insurancequote.tumblr.com/image/93902323535.
Consumers seeking objective online information about life insurance are encouraged to visit YourLifeSolution.com, or call 888.374.2764.