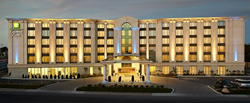 Our rates are lower than other airport parking options...
Montreal, Quebec (PRWEB) August 06, 2014
Greenbee Parking, one of the fastest growing parking services in North America, has just announced that Holiday Inn Express will be their new partner in Montreal, Canada. Located just 2 miles off the busy Montreal Pierre Elliot Trudeau International Airport (YUL), the hotel parking lot is an accessible and affordable option for all Greenbee customers. Not only can they avoid the mad rush which defines airport traffic anywhere, but one can also expect a more secure location for their vehicles. While, this is a genuine bonus for all long term customers, Greenbee's special offers has great deals for short term bookings as well. Once the car is parked, one can avail the shuttle, which is free for all Greenbee customers. It runs in 30 minute intervals to and from the airport. The best part about this deal is that one can enjoy these benefits and the cheap YUL airport parking rates without having to book a room at the facility.
"Our rates are lower than other airport parking options and that allows our customers to not think twice and debate about parking choices anymore," said Christine Cooper – Marketing Coordinator, Greenbee Parking. "Our alliance with Holiday Inn Express will allow us to offer all customers using the Montreal (YUL) airport better and more extensive services. The increased portfolio will be combined with more affordable YUL airport parking rates for both long and short term bookings."
Montréal–Pierre Elliott Trudeau International Airport Parking Information
Montréal–Pierre Elliott Trudeau International Airport is one of the busiest airports in North America. Located close to downtown Montreal and strategically close to other surrounding business districts in the regions of Greater Montreal, Eastern Ontario, the Atlantic Provinces, Northern Vermont as well as parts of New York, this airport sees as much business traffic as it does for travel and leisure. It is one of the few Canadian airports which has the United States border pre-clearance, which shows the volume of its present traffic and potential for future business. As a major gateway for both countries, Montreal (YUL) airport had 14.09 million passenger footfalls last year. Parking expansion is a major focus for the authorities and in this now they are aided by new services like Greenbee Parking which offers great parking solutions at very competitive YUL airport parking rates.
The Greenbee Airport Parking Solution
Greenbeeparking.com is the connection between consumers and parking vacancies in close proximity to major airports and seaports. The parking spaces are very affordable because the company has negotiated discounted rates with major hotel chains for the parking spaces that are not currently occupied. Here's how it works:
Greenbee Parking puts the available inventory of parking spaces on their website to be reserved by business and leisure travelers looking for cheap airport parking. This alternative method for finding parking equates to significant savings for the traveler. You can learn more about their offers from (http://youtu.be/RWc3dqhugFA) or via the web at http://www.greenbeeparking.com.
About Greenbee Parking
Greenbee Parking is the nation's most innovative long term parking company, with a new way of making long term parking affordable. The company is rapidly adding new airports to its network.