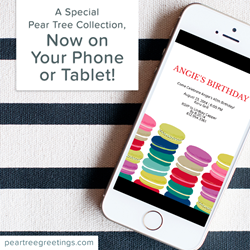 This is what our customers have been asking for and we are thrilled to give it to them.
North Mankato, Minn. (PRWEB) August 07, 2014
A special collection of Pear Tree Greetings' award-winning designs are now available on the mobile app, Red Stamp. This presents a new experience for users, who will now have the ability to send Pear Tree's unique designs straight from their smartphones or tablets to friends and family.
This initial collection on the mobile app includes 12 designs ranging from party invitations to birth announcements to thank you cards. Users can personalize the greeting with editable text and, on select designs, include a favorite photo.
Stephanie Bottner, the General Manager for Pear Tree, said, "Our designs emphasize celebrating life's moments and now with our designs easily accessible on a mobile app, users can instantly connect with family and friends right from their fingertips."
After personalizing the design on the app, users can print the greeting for a small fee or send it immediately as an e-card for free. If the user orders printed cards, Red Stamp can address, add postage and mail them directly to the recipients. If sent as an e-card it can be shared via email or via text messaging, or posted to Instagram, Facebook, or Twitter.
The designs are now available to personalize. To download the app, go to the app store on your smartphone or tablet; download Red Stamp app; then click 'collections' on the home page to find the designs from Pear Tree.
Bottner added, "This is what our customers have been asking for and we are thrilled to give it to them."
About Pear Tree Greetings
Pear Tree Greetings is all about creating a look that stands out, whether you're planning a wedding or graduation, introducing your new baby, throwing a birthday party or ordering Christmas cards. Surprisingly affordable and easy to personalize with photos, text and over 70 color choices, Pear Tree's award-winning designs magically help you pull everything together to create something amazing. For more information, visit http://www.PearTreeGreetings.com.