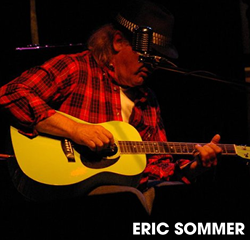 Nothing short of the best show I have seen all summer; it inspiring to see what a lifetime of comitment can produce...Steve DanzteAthens, GA
Birmingham, Alabama (PRWEB) August 06, 2014
August 9 finds Pop Americana Artist Eric Sommer in Kansas City, teed up for a solo guitar show at The Czar Bar.
Kansas City, this is a good thing.
Eric Sommer is one badass guitar player - you'll see him doing things on an acoustic guitar most folks would never think of or could even imagine. His "no fear" approach to improvisation is as demanding as it is exhilarating and a joy to watch.
His onstage show is captivating and unique - a cyclone of guitars, harmonicas, more guitars, lap slap percussion on guitar faces, boxes, stands, on anything within reach and it all seems to work, and work remarkably well.
Add to this a pocketful - a suitcase full would be more like it - of perfectly crafted songs and stories that take you from 10th Street and The Bowery to hardscrabble back streets in Brownington, Vermont, from decay and down-and-outness in South Boston to the stages of The Berklee Performance Center and The Barn Jam in Awendaw Green, South Carolina...
And you have something very rare indeed: a completely unique, authentic American Artist in the truest sense of the word, someone committed to being exactly what he has become - and incredibly skilled performer and master of his universe who has spent a lifetime exploring the stage and the music.
Opening for Mr. Sommer at 7pm is Kansas City singer Amy Farrand; The Czar Bar is located at 1531 Grand Blvd, Kansas City, MO 64108 and they can be reached at (816) 421-0300. The show is produced by Canyon McClung and The Czar Bar, KC.
###
Please visit Eric Sommer online for additional schedules or contact him at eric(at)ericsommer(dot)com or call 202-255-1995. Additionally, you can find Eric Sommer on Facebook, too. RAINY DAY KARMA is also available on iTunes and CDBaby.
Eric Sommer is represented by PeaPatch Island Entertainment, and PR programs are managed thru MTG/NY; For more information, promo/appearance requests or to set up an interview, please contact Gary Curry at 609-202-5021.