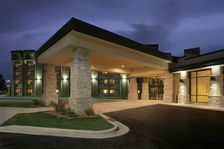 Our goal is to serve and serve well.
Milwaukee, WI (PRWEB) August 14, 2014
Greenbee Parking, one of the youngest and fastest growing parking services in the country, has announced new parking deals for their customers in Milwaukee. Travelers who use the Milwaukee (MKE) airport frequently can expect major savings in their parking and travel budgets from now on. These new deals come attached with incredibly cheap MKE airport parking rates which means that whether they are booking for a longer term or for a couple days, they will still pay just a fraction of what they used to pay for parking before. These savings would reflect in almost 30-75% fewer expenses on their entire travel budget, adding the much needed relief for every traveler in these hard times. The young company has quickly become a brand known for their innovative and affordable offers for all kinds of parking needs.
"Our goal is to serve and serve well. That is why we have come up with offers that stand out compared to what all other service providers in this field offer," said Christine Cooper – Marketing Coordinator, Greenbee Parking. "We want to provide the fastest and easiest way to book a parking space and eliminate all hassles when our customers are traveling. Our smooth and flexible services will allow them to focus on other travel needs while they rest easy that their cars are secure and that too at cheap MKE airport parking rates."
General Mitchell International Airport Parking Information
General Mitchell International Airport is a busy public airport which also sees a lot of joint civil-military flights operating from here. It serves a greater part of Wisconsin along with the multiple regions of northern Illinois & Chicago as well. In fact, it is often termed as the third airport for Chicago which keeps it so busy round the year. As the largest hub for all domestic carriers in the state, MKE sees a lot of business travel along with tourist footfalls through their non-stop flights to 36 cities. As the economy is slowly improving, the airport is now witnessing a steady increase in business as well. Authorities therefore, have focused on renovating and expanding operations to facilitate consumer and traveler experience here. One area of focus is the improved airport parking which has seen public as well private efforts to expand the services. Greenbee Parking is one of the leading players in this arena which has aided in this expansion and has offered multiple deals for users, all at very cheap MKE airport parking rates.
The Greenbee Airport Parking Solution
Greenbeeparking.com is the connection between consumers and parking vacancies in close proximity to major airports and seaports. The parking spaces are very affordable because the company has negotiated discounted rates with major hotel chains for the parking spaces that are not currently occupied. Here's how it works.
Greenbee Parking puts the available inventory of parking spaces on their website to be reserved by business and leisure travelers looking for cheap airport parking. This alternative method for finding parking equates to significant savings for the traveler. You can learn more about their offers from (http://youtu.be/RWc3dqhugFA) or via the web at http://www.greenbeeparking.com.
About Greenbee Parking
Greenbee Parking is the nation's most innovative long term parking company, with a new way of making long term parking affordable. The company is rapidly adding new airports to its network.