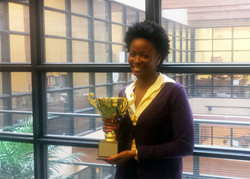 Chicago, IL (PRWEB) August 06, 2014
American Homeowner Preservation ("AHP") is proud to announce that Senior Litigation Resolution Specialist Christal Tarver is the company's employee of the month for July 2014. Since joining the AHP team in April, Tarver has quickly gained the respect and admiration of co-workers not only in her department, but throughout the office. Tarver's peers nominated her as employee of the month based on some of the following criteria: commitment to quality in carrying out job responsibilities, exemplary individual achievement and positive attitude towards co-workers.
In her role as Senior Litigation Resolution Specialist, Tarver serves as a liaison between AHP, law firms and borrowers. "We work to reach settlement agreements that allow borrowers to walk away from their home without any debt. Unfortunately, we have to start the foreclosure and eviction process for borrowers who have not been responsive," said Tarver, who earned her J.D from DePaul University College of Law. "Often times, sending notices to the borrowers is enough to get them back on track with payments. I prefer when we get that result and can avoid the foreclosure process."
AHP only recently added an in-house litigation department, which was part of the attraction for Tarver to join AHP. "I was interested in working with a company that was developing their legal department." Tarver said. In addition to joining a newly established department, Tarver credits the positive attitudes of her co-workers in making her transition an easy one. "Everyone has been welcoming and seems to all be team players. I enjoy the fact that we spend time together each month during our luncheon."
Tarver has not hesitated to take on a leadership role in her short time with AHP, an aspect that her co-workers have observed and appreciate. "On any given day you'll find her wielding her expertise in litigation resolution; thinking of ways to improve processes and maintaining a good attitude throughout all of this," noted one colleague. Another co-worker said, "Christal has a positive attitude and contributes to the team in many ways. Even if it is not under her job description, she is willing to put in extra effort to support the team."
Outside of AHP, Tarver enjoys running, live music and has an interest in photography. As the employee of the month, Tarver will have the privilege of selecting the restaurant for the company's monthly luncheon. Though she has not made her decision, Tarver is leaning towards selecting Eleven City Diner in Chicago's South Loop as her luncheon destination.
American Homeowner Preservation empowers accredited investors to purchase equity in pools of distressed mortgages to earn returns of 9-12%. Our goal is to help secure your future by securing someone else's. For further information or inquiries please visit http://ahpinvest.com or call 800-555-1055.