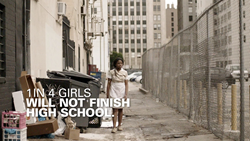 New York, NY (PRWEB) August 06, 2014
Girls Inc. is launching a national campaign to call attention to the very serious issues facing girls growing up in North America and the unique solutions Girls Inc. offers.
Many will be surprised to learn that in the United States today:

1/4 of all girls don't finish high school
3/10 will be pregnant before age 20
1/5 will experience childhood sex abuse
78% are unhappy with their bodies
The campaign, created by MARC USA, tells the story of these disturbing statistics in the words of girls themselves. TV spots end with the girls' affirmation that with Girls Inc. in their corner, they will fight for themselves and win. The core message of "fuel her fire and she will change the world" reflects the organization's core belief in supporting each girl's inherent strengths.
Through 86 affiliates across the U.S. and Canada, Girls Inc. provides a holistic, in-depth approach that combines mentoring, year-round programming and highly skilled professional staff in safe, girl-only environments with the mission of inspiring all girls to be strong, smart, and bold.
Girls Inc. research-based programming has consistently been shown to work. While only 60% of girls who begin college actually graduate, 90% of Girls Inc. scholarship recipients do.
The campaign was designed to reach potential donors to make them aware of the challenges girls face and encourage them to become champions for girls through both financial support and advocacy for systematic change.
"The goal of 'With You in Her Corner' is to reach influential people — and particularly women — who are leaders in business and their communities, shine light on the obstacles far too many girls face, and create a movement to make a difference for girls," said Judy Vredenburgh, Girls Inc. President and CEO.
The campaign grew out of a multi-year strategic planning effort led by Girls Inc. national board member Tony Bucci, Chairman of MARC USA, who explains, "We didn't start with the idea of a PSA. We started with the development of a brand strategy to support the organization's growth. We used a new lens to clearly identify the organization's points of difference – how we create change. Then MARC USA research staff did extensive interviews to uncover the factors that would be most motivating to our targets. From here, the brand strategy and, ultimately, the creative strategy were developed."
The campaign includes :30 and :60 spots for broadcast as well as longer versions (2:30 and 6:00) for use online, in social media and at events. All MARC USA time was donated. In addition, the agency recruited Director Mike Chaves and production house Optimus in Chicago to provide their services at minimal cost.
About Girls Inc.
Girls Inc. inspires all girls to be strong, smart, and bold, providing more than 138,000 girls across the U.S. and Canada with life-changing experiences and real solutions to the unique issues girls face. Girls Inc. gives girls the right tools and support to succeed, including trained professionals who mentor and guide them in a safe, girls-only environment, peers who share their drive and aspirations, and research-based programming. At Girls Inc., girls learn to set and achieve goals, boldly confront challenges, resist peer pressure, see college as attainable, and explore nontraditional fields such as STEM. Informed by the experiences of girls and their families, Girls Inc. works with policymakers to advocate on key legislation and initiatives.
With Girls Inc. in her corner, every girl can be healthy, educated, and independent. Join us at girlsinc.org.
About MARC USA
MARC USA is a national full-service integrated marketing communications firm known for uncovering radical insights that incite powerful reactions through a deeper understanding of whole-brain behavior. With offices in Chicago, Miami and Pittsburgh and more than 250 employees, it is one of the largest independent agencies in the country. Services include advertising, strategic planning, research, public relations, social marketing, media planning and buying, digital marketing, direct and customer relationship marketing and sales promotion.